Horatio Kemeny
I added a couple of rows and columns of interest. Mark Twain said something like "Lies, Damned Lies, Statistics". Indeed, there are many ways to paint different pictures with the same colours. This simple chart has grown in complexity and I've received a lot of comments and some criticism from people.
To be clear, and I'm not a statistician… I was curious how Canada's response, at this critical time, looks compared to three other cases… Awful, Bad, Bad-then-good. It's still early to tell, and I have my opinion… but pictures are worth more than words, so here you go.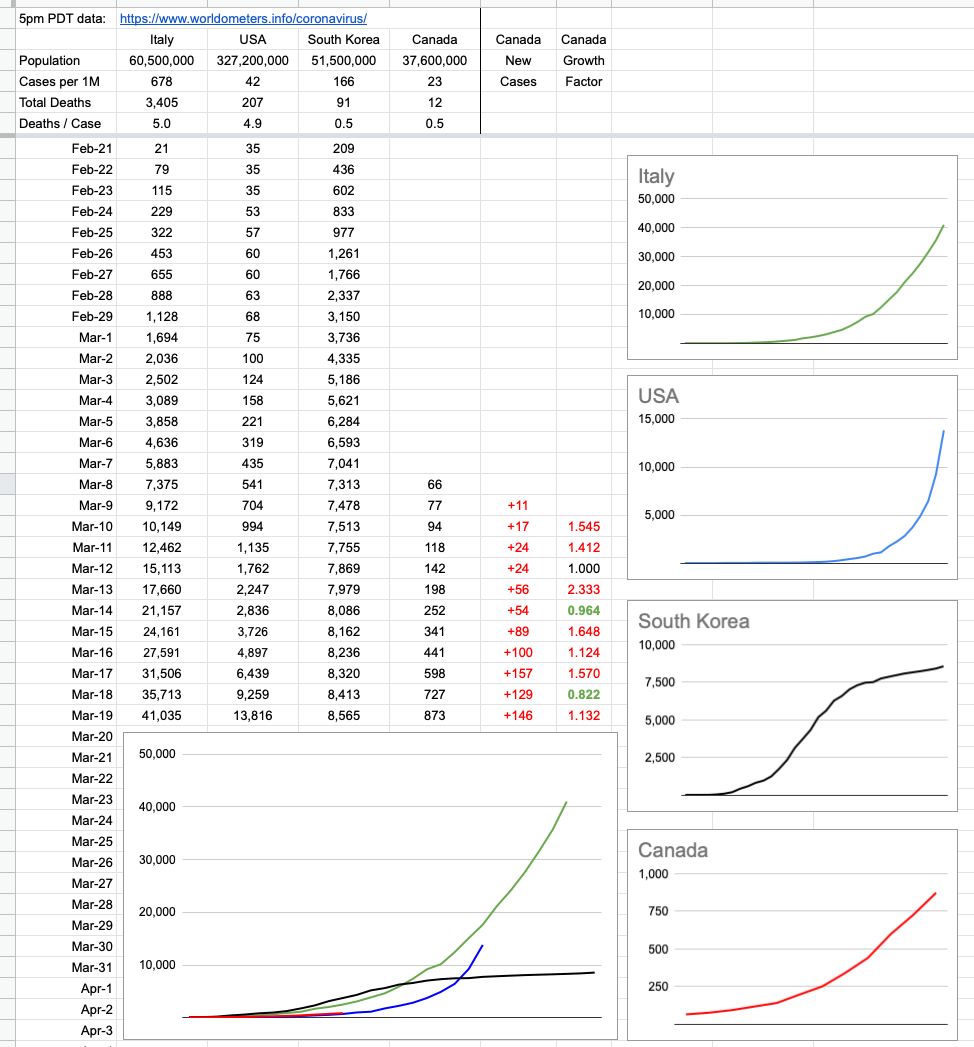 Horatio Kemeny
Follow-up to yesterday's post… and I will try to update this daily, around 5pm. To make it consistent, I've normalized the numbers for that. The data comes from https://www.worldometers.info/coronavirus/
The individual Canada chart looks a little curvier than it did yesterday, but that's only because I added a bit of earlier data and while the trend was indeed increasing, the historical numbers are small. Check the y-axis, not just the pattern.
Also, while yesterday saw an increase of 157 cases nationally, that number was lower (129) today, according to this source of data. And that's what it's all about… slowing the growth, because it will grow for the foreseeable future. The question is how fast.
I've also added South Korea as an example of how it looks when you do things right; that is the trend everybody wants to see. Still growing, but way slower than before.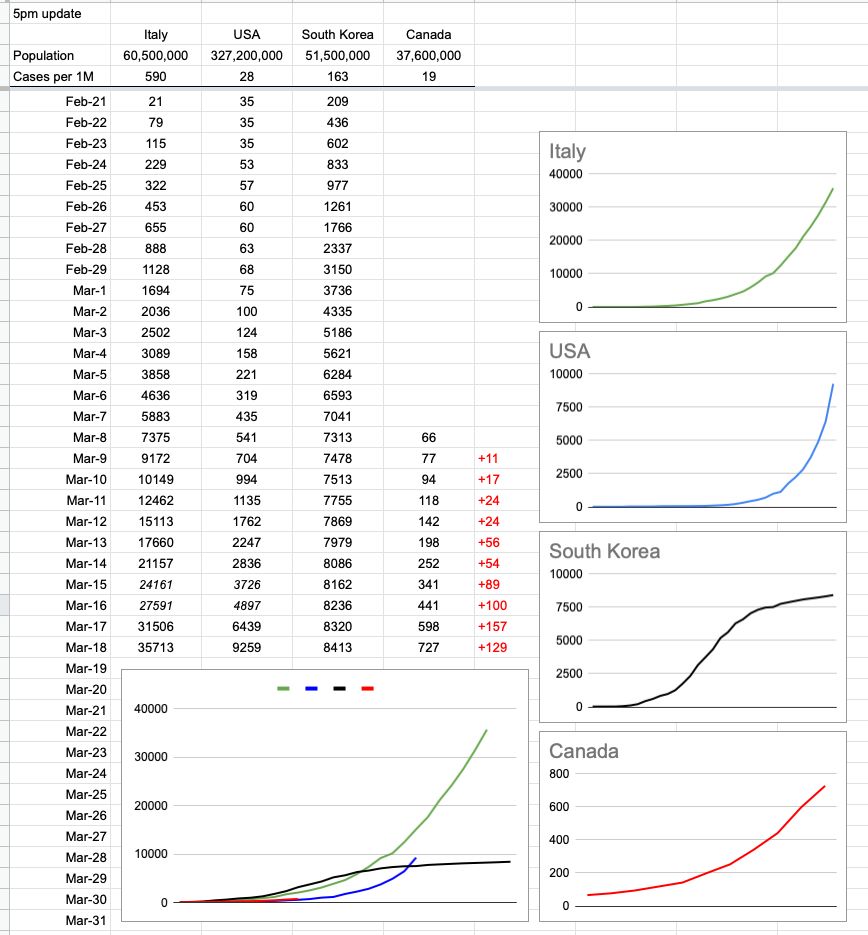 Horatio Kemeny
There's a table going around showing what's happened in Italy and the US so far. Here it is, with Canada added in… and a couple of rows of extrapolated data. I added the graphs, and what they show is simple — it's up to us, ie Canada, to do everything we can with respect to flattening the curve. It's not too late, because it's still a straight line… but there's zero wiggle room. In a perfect world, that red line stays straight, stays well-below those exponentially-growing green and blue lines, and eventually flattens out and goes down to zero. We, today, are where the US was a week ago and Italy was 2.5 weeks ago. And neither of those are trends we want to follow. Listen and follow what we're being told. They are strict guidelines for a reason; they work.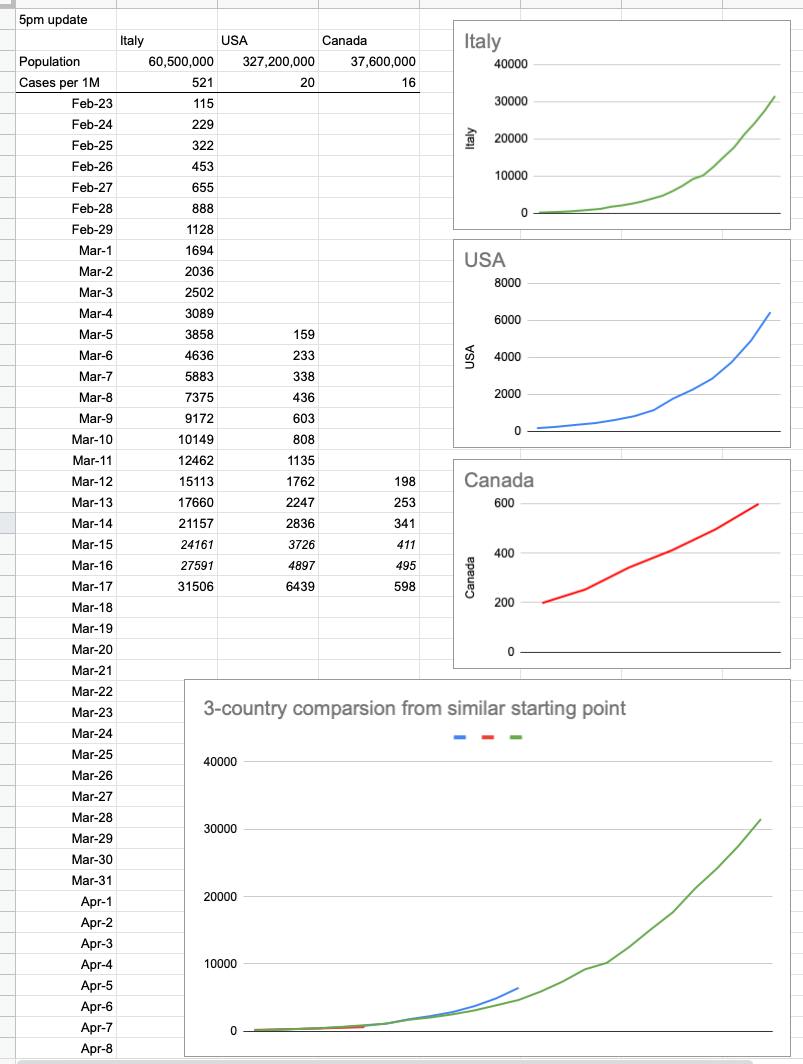 Share...