Louis Armstrong was perhaps the greatest and most innovative trumpet players of all time, so it's a bit ironic that he's probably best known as a vocalist, for his timeless rendition of "What a Wonderful World". Similarly, Wayne Gretzky, perhaps the greatest and most innovative hockey player of all time… might be more remembered for something he said; something that's been repeated about five hundred million times, in every context imaginable: "I skate to where the puck is going to be, not where it's been."
To some extent, that tired, hackneyed phrase has lost all meaning, having now become so ubiquitous and diluted.
But… it has its uses. For example, if you're Dr. Bonnie Henry, by now you have some vision as to how things work… how the pandemic works, how hospitals work within its confines and, most importantly, how the general public seems to behave.
So… if I had to criticize Dr. Henry for anything, it would be for her failing to skate to where that particular puck was going to be on Halloween. It was becoming evident that things were about to break at the seams, and more should have been done.
On October 31st, B.C. was seeing about 350 new cases a day, and about two deaths a day. Then came the parties and the crowds and the "it's no big deal, come on man, it's Halloween!!" excuses.
Around 10 days after the numerous private parties and the overrunning of downtown, there was a sharp rise in daily case counts; they had doubled. But deaths hadn't gone up, so everything was fine, right?
Ten days after that, there was a sharp rise in daily deaths… to levels we haven't yet managed to recover from.
This isn't rocket science, and this isn't unpredictable… because it's the exact same pattern we've seen several times. Where the puck has been, and, more importantly, where it's going, has now become glaringly obvious.
From the "this is why we can't have nice things" point of view, Dr. Henry has imposed measures over the holidays that seem harsh. It's unfortunate she didn't impose them before Halloween, because there's a chance this would be a far more normal holiday season if she had. As it is, these measures are now necessary, but probably not sufficient. Without enforcement to back them up, these orders are merely good suggestions, and many people are planning to ignore them entirely. This has always been an issue of education, and many people simply don't get it. Accordingly, we will see the consequences of these actions in the next 6 weeks.
If I had to predict it, the sharp rise in infections will all take place starting tonight and lasting till New Year's Eve. That will start appearing as a rise in daily new cases during the week between Christmas and NYE. The deaths resulting from those new cases will peak heading into the second week of January, but the last of those new cases won't have "kicked in" until two weeks after NYE… which means those deaths won't hit the books till the end of the month.
So there you have the prediction… new cases will keep rising till mid-January, and then start to tail off. Daily death numbers will start dropping off in late January. If the question is "When will all this be over..?", I can't tell you the end of the end, but the beginning of the end…? February. When things start improving in February, I would expect them to continue to improve to the end. Between vaccines and summer, there won't be a third wave… just a slow and steady path to the end of this nightmare.
At the end of a long shift, Dr. Bonny just fired the puck into the corner. She's skating to the bench to catch her breath. In the meantime, for all of us still on the ice… where should we go? To where she shot the puck from? To where the puck is now…?
I think to myself… we should skate to where the puck is going to be. And I think to myself… there's an end to this game… hopefully soon. And also, all together now…. I think to myself… what a wonderful world…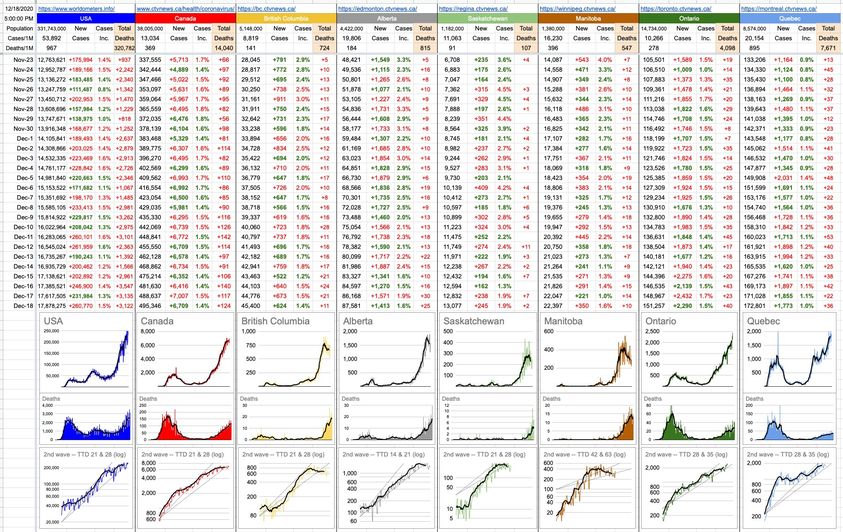 37 Likes, 5 Shares