Setting aside the vaccine optimism for a moment, let's remember we're not quite there yet… although, slowly, things will trend in that direction. It depends where you are and it depends how things are going. For example, today, New Brunswick shifted from level "orange" to level "yellow"… which means, for them, bubbles can grow to 15 people, sports teams are allowed league play across zones and in larger tournaments, formal indoor gatherings are allowed (with some restrictions) and informal outdoor gatherings of up to 50 people are also allowed.
But we are far from New Brunswick, in more ways than one.
B.C. is the only province in Canada where our 7-day rolling average of new cases has been consistently going up. Every other place has seen it bounce around, a little up and a little down. Ours is very consistently a little… up. A month ago, our 7-day average of new cases was 436. A week later, 452. A week after that, 482. Today, it's 557.
So what, that's just testing… but what matters are hospitalizations, ICU admissions and deaths, right? I'd argue that's not quite true, but even if that's what you believe, then all I can tell you is that all of those numbers, over the last month, are virtually unchanged. Around 250 people in hospital, 65 of them in ICU… but 136 people have died since then, so there's a consistent pipeline. It's neither a downward spiral nor an upward spiral. Just a churn.
It's easy to fiddle with the numbers, but let's remember these are real people, not just statistics. Every one of those 136 people have family and friends deeply affected. As do the 136 presently in the system. And as will next month's 136 if nothing changes.
Things, fortunately, are changing… just more slowly around here, for the usual reasons. Like staunch Republicans who are still supporting Trump, we are now well past the point of changing people's minds. If you were never into masks and social distancing, you're certainly not about to change your tune now. If you're adamantly against vaccines, that won't change either. The flipside of that is that today was the first day to call in and book for vaccine appointments for the general public, starting with those aged 90+. The phone lines were flooded with calls… like 1.7 million calls for only 40,000 or so eligible people. That's actually pretty encouraging. We'll get there, but the impatience is evident… everywhere.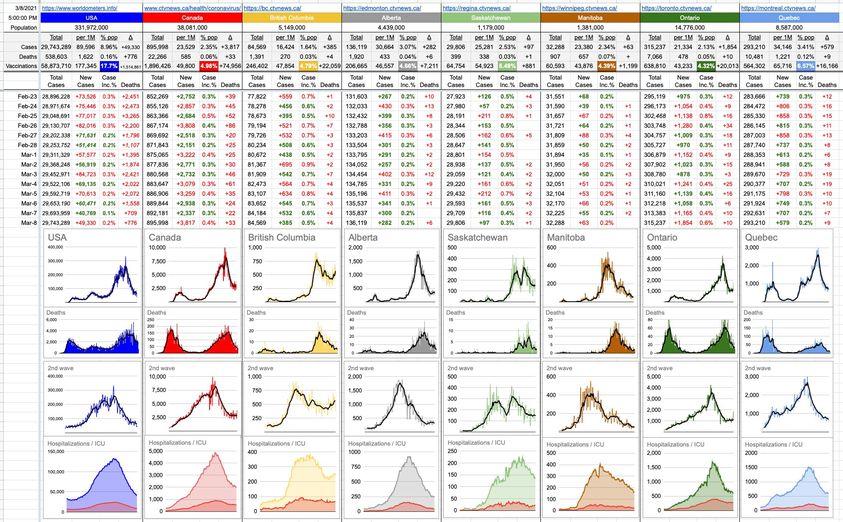 24 Likes, 0 Shares