Like many things, it depends how you look at it… and that generally leads to a bit of disagreement.
I happened to be reading a news story about a cassette tape that a girl lost while on vacation in Spain. Twenty years later, she saw it in an art gallery, part of a "Sea of Artifacts" exhibit by an artist who'd been documenting plastic pollution and making art out of it.
The girl contacted the artist, and the tape was sent to a professional audio restorer who managed to extract all of the music from it – an eclectic collection ranging from Shaggy and Bob Marley to a bunch of Disney numbers.
So, what's the story?
Is it about the variety in musical taste of some random 12-year old girl?
Is it about serendipity, synchronicity and the universe?
Is it about the resilience of cassettes? It's impressive; lost at sea for 20 years, travelling 1,200 miles in rough, salty seas… and it's still playable. The inventor of the cassette tape died recently (aged 94) – I'm sure he was impressed.
Is it about how plastic is so ridiculously indestructible that we really need to be aware of what we're dumping into the ocean?
Like usual, it depends who you ask and it depends on their agenda. Today, on the one-year anniversary of the WHO declaring Covid-19 a global pandemic, I'm thinking back to all the news I've heard, read and written… the spins I've muddled through myself, trying to figure out what's really going on.
Today, Dr. Bonnie Henry announced a bit of relaxation in restrictions… outdoor gatherings of up to 10 people are now allowed. Also, today, I should point out that our case numbers and ICU admissions are flat… or, keep going up, though not by rates that anyone would call alarming.
It's been like this from the beginning; somewhat conflicting information that's left up to interpretation. If you already know the agenda you're trying to promote, you'll be able to extract it from there.
I will keep it simple, and this is, as always, only my opinion… outdoor gatherings are probably fine, totally fine. They have been, for a while. Ten people sounds about right, officially, but what does that even mean… if you take over a football field, why not 100. The issue is don't get too close to someone, and not for too long. You chances of inhaling a lethal viral dose of C19 are next to zero if you're outdoors. But rules need to be defined, especially because the numbers are not going down… because as straightforward as the rules are, they're generally not being followed by a significant number of people, and that plays into the math. If 95% of the people stick to the rules and 5% don't, what can we expect? What if it's 80/20? What if it's 50/50?
Once you factor all of that into it, these haphazard-sounding decisions suddenly don't feel so random or unexpected; they're not. Like life, it's all a calculated risk… and the path that's evident now is one where the numbers don't get worse, but stay flat or slide downward toward zero… while at the same time slowly and methodically reducing restrictions. It makes sense, though everyone will grab onto the story from different sides and pull in their direction… "numbers aren't improving", "see, why did we ever need restrictions", "I told you it's ok to get together outside", "ICU cases keep rising".
Here's a generalized suggestion to every single person: Keep doing what you're doing; we're all headed in the right direction collectively… you do you, I'll do me, and we will all eventually hit the finish line. Nobody knows what that percentage split is, but it doesn't matter… whatever it is, it's working for us now. If you've been sticking to the rules, keep doing so. If you haven't, I'm sure you won't start now. And hopefully, that's all factored into this and it doesn't matter.
No matter how you look at it, I'm sure we can agree on that.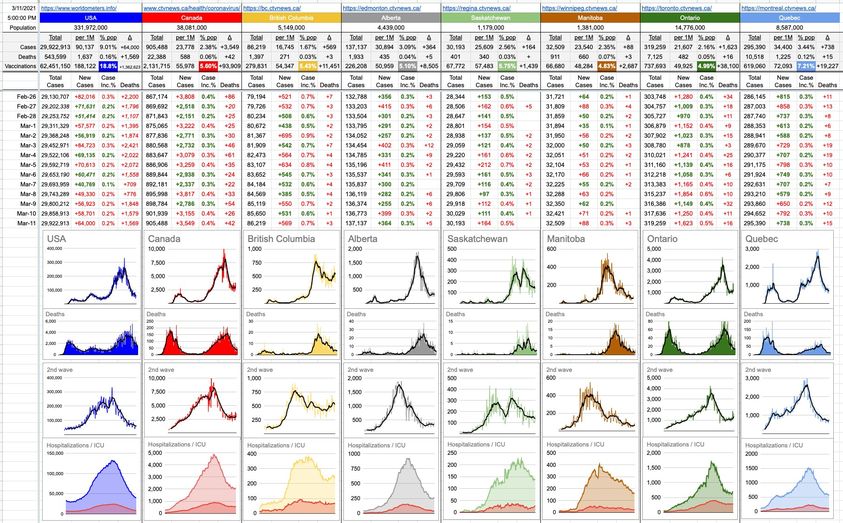 12 Likes, 1 Shares