There's that old saying… "Never ASSUME, because when you ASSUME, you make an ASS of U and ME". There's an assumption I made a while back that's clearly wrong… and it changes a lot of other assumptions that go along with it.
My assumption was that when a vaccine finally arrived, it'd be welcomed with open arms. You wouldn't be able to plug it into people fast enough. Sure, there's the fanatic "Bill Gates/5G/mind control/conspiracy" crowd, but I'd thought it's a handful of people, similar in numbers to the tiny pockets of anti-vaxxers who cause measles outbreaks from time to time. But this was a very bad assumption, because it's coming to light that a lot of people, for reasons that don't make sense to me (but that's not the issue), are choosing to not get vaccinated. These aren't crazy people screaming and banging pots and pans in the streets. These are, for example, well-trained medical professionals. In California, something like, 20-40% of frontline workers in L.A. county have turned down the vaccine. Head inland a bit to Riverside County, and the number goes up to 50%. This is causing head-scratching confusion in what had been assumed to be a pretty straightforward process.
In some of those hospitals, those refusals were popping up so unexpectedly that the vaccines risked being wasted. Once thawed, there's only so much time before it's useless. Accordingly, some nurses were calling up spouses and other family members… come quick, there's a jab here for you if you want it. This is a violation of federal guidelines, of course… but I'm all for it. That's far better than chucking them in the garbage. And apparently, there are some so anti-vaxx, that they'll purposefully destroy the vaccine, given the opportunity… like that hospital employee in Wisconsin who threw 57 vials of Moderna into the garbage.
The unfortunate nature of the feedback loop/echo chamber of social media is that if you were at some point questioning the new vaccine (not from a conspiracy theory point of view, but a legitimate concern… you just wanted to know more about it), after clicking a few things and then perhaps clicking on a few more questionable ones, you suddenly plunged yourself into the "question everything" camp. Accordingly, all you get now is story after story that make you skeptical of the vaccine. Is it safe, does it actually work, is it really necessary… and so on. Once you've thrown yourself into that rabbit hole, it can be hard to emerge.
I wrote something a while back, just before the vaccines became publicly available… here's a link to it:
If you or someone you know is questioning the vaccine from the "there's no way they could come up with something so safe and effective so quickly" point of view, it's worth a read.
The flipside to all of this is how many people *do* want the vaccine but can't get their hands on it, due to inefficient deployment plans. I'm going to give it some time before criticizing everyone; it's early in the game and the kinks are being worked out, but jeez, it's not like there wasn't a lot of time to plan ahead. Perhaps the ultra-low temperature requirements threw a big wrench into it… but everyone is way behind.
Well, almost everyone. One place where the overlap of organization and forward-thinking and technology and urgency came together impressively is Israel, who, on a per-capita basis, are one or two orders of magnitude ahead of everyone else when it comes to vaccinating their population…
U.S. 1.52%
Canada 0.42%
Israel 15.14%
Wow. Instead of complaining it can't be done, it's worth looking at how they're doing it. The notification/registration/reservation system was in place. The innovation to be able to transport the ultra-cold vaccine to remote areas was in place. Volunteers were in place. When the word went out to go online and book an appointment, there was a huge rush…but the website didn't crash. People signed up, showed up and got vaccinated in 15 minutes.
And… a touching note; for those who showed up, they were given gifts to take away… of kids books and games. What an odd thing to be giving away, especially since it wasn't little kids who are being vaccinated. That comes later… these injections were mostly front-line workers and the elderly. And that was exactly the point; here you go, respected elder – take your vaccination, and also take some books and games for your grandkids… because, we know… you haven't hugged them in almost a year, and when you show up to do so, no need to show up empty-handed.
Israel has 9 million people and 150 vaccine clinics around the country and roving vaccine vans. It obviously helps that Israel is a small country (it's about the size of Vancouver Island)… but they've so far managed to administer 1.4 million doses. For comparison, Ontario has 14.5 million people and 19 vaccine clinics. They've managed less than 60,000 doses so far. B.C. has a population of 5.1 million and has administered 28,000 doses.
Like I said, it's early in the game… but these assumptions… that everyone would want it when it gets here, that it'd be easy to get once it's here, that the infrastructure to deliver it would be in place… were all just plain wrong. As per the opening paragraph… Never ASSUME… but just in case, here are a few more:
– I assume vaccine distribution will become more streamlined and efficient as time goes on
– I assume people will see that those getting the vaccine aren't growing a third arm, and that it's safe, and they'll go get their shot
– I assume we all want to go back to normal as quickly as possible and will do our part to make that happen
I assume I'll be right about at least some of that.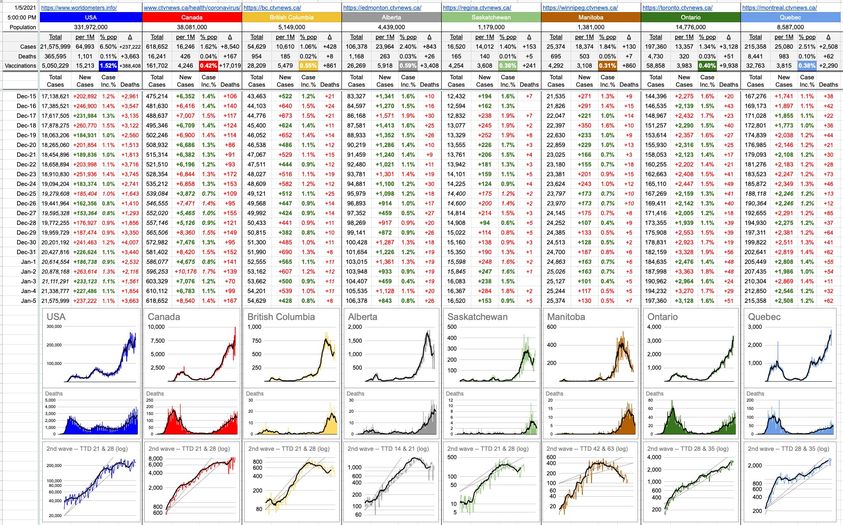 35 Likes, 8 Shares