Monday is data catch-up day, when we try to make some sense of where numbers are… and, on the surface… for the moment… not bad. The downward trend is evident everywhere… all across Canada. Here in BC, the first 10 days of the year averaged 539 new cases a day and an average of 364 people hospitalized. The next 20 days saw an average of 493 daily cases and 339 hospitalizations. The last 10 days have shown an average of 445 new cases… and 303 hospitalizations. Today's numbers show 277 new cases and 289 people hospitalized across the province with C19 (79 in ICU).
If looking at numbers isn't your thing, just look at the pictures. Great, right?
Sort of. Also, over the weekend… Canada surpassed 20,000 C19 deaths. Quebec alone is approaching 10,000. Nevertheless, the trends are going in the right direction. What could go wrong?
Three big things, with varying degrees of potential impact.
One is that I mentioned, perhaps a little short-sightedly, that the worst is over with respect to large family gatherings. Notwithstanding the ridiculously irresponsible penthouse parties popping up in Yaletown… upcoming, we have the SuperBowl. Then there's Lunar New Year. After that there's Family Day. All of that is supposed to look a little different this year, and for most people it will… but not everybody… so, there could be an effect… especially because of number two…
… which are these new C19 variants, which have everyone a little concerned. The concern isn't that they're any more deadly, because they're likely not. As viruses evolve and mutate, their intention is to propagate faster, and killing the host too quickly isn't part of the plan. Killing the host at all, by the way, isn't necessarily part of the plan, from the virus's point of view. It just wants to propagate. The fact it makes us sick is an unfortunate side-effect, one about which, I assure you, the virus couldn't care less. Because, of course, it can't care in the first place.
But, we can care, and we should… because, as we've learned, we're never too far from a full-on outbreak, and a virus with a higher Rø the potential to cause exactly that. Many people are sick and tired of hearing Dr. Henry's "Now is not the time to (party/travel/get together)…" and "Now it's our time to (oh, you know)…" slogans, but they're true… more than ever.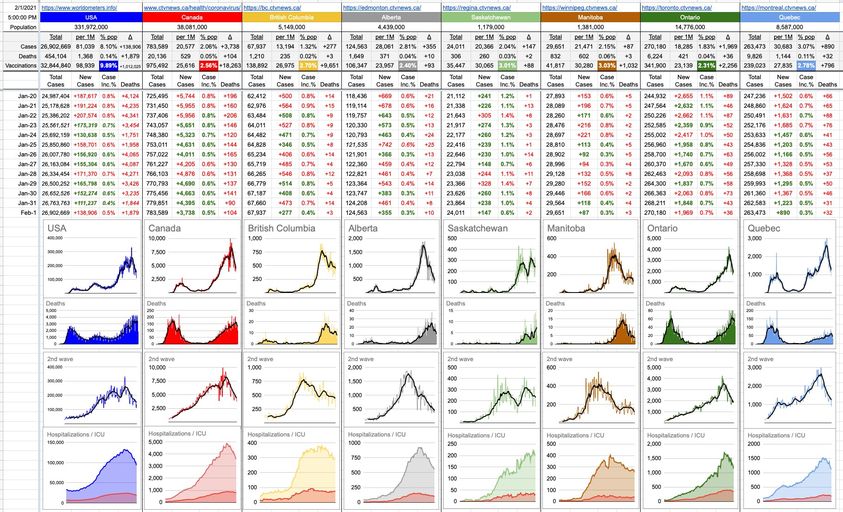 26 Likes, 2 Shares