Happy Groundhog Day! Happy Groundhog Day! – and if that little repeat doesn't make sense to you, it's time for you to emerge from your own gopher hole, and forget about shadows… just go see the movie… and, also, if you haven't seen the movie, you might not want to read all of this because it'll spoil it for you. And if you're thinking "Who cares, I'm never going to see the movie"… that's a bad way to look at it… because it's a good movie. A great movie. In fact, so great… that it's been selected by the U.S. Library of Congress to be included for permanent preservation in the National Film Registry.
The film isn't really about Groundhog Day; it just so happens that its repeated events take place on this particular day. It could have been any other holiday… or just some regular Tuesday. And, like most worthwhile films, it touches on many different things; some obvious and some subtle.
Many days of this pandemic have felt exactly like what Phil Connors (Bill Murray in the movie) went through… the same repetitive pattern, day after day after day. Certainly, initially, in the movie, Phil embraced the novelty of having day after day to pursue whatever he wanted… with no consequences. He did more than make crafts and bake sourdough and watch Tiger King, but same idea… and, no matter what, back to 6am the next day. The same next day.
Eventually, he got sick and tired and depressed of it all… but even killing himself didn't work. Back to a perpetual cycle of day after day… but let's be clear… this wasn't a few weeks or months into it… it was years; possibly decades.
Eventually, after all of that, he emerged with some clarity… that if he's stuck in the same day forever, why not make the best of it for other people, if not himself. He fixes a flat tire. He saves a guy choking to death. He catches a kid falling out of a tree. He lights someone's cigarette without being asked. On a touching note, he continually and persistently tries to save a man's life, yet no matter what he tries, it's to no avail. And that's just touching the surface of it. There's a lot of discussion regarding exactly how long Phil replayed that day. Some estimates are in the range of 34 years… more than 12,000 times. No matter what. No matter where. No way out of that town, and no way out of that day… no matter what he tried.
It was eventually living through a "perfect" day that gets him out of his loop. From a spiritual point of view, in Judaism, there's a concept of "repairing the world", and that by doing a good deed (a "Mitzvah") you release a spark of holy energy to the universe… and if everyone went around doing good deeds all the time, we'd all benefit. Certainly, on that particular day, Phil lit a forest fire of reparation.
Like the movie, there's an end to the pandemic… and like the end of the movie, when we eventually get there, it'll be happy… but we can all sympathize with Phil. If we didn't quite get it the first time we ever watched the movie, we certainly do now. I recall watching an interview after Schindler's List came out… and one of the Schindler Jews who survived The Holocaust was in the audience. She was asked after if she thought the movie was too long. "The real thing was longer", she replied. Yep. Understood.
And back to today… in a very pandemically-themed ceremony (Groundhog Punxsutawney Phil was wearing a mask), the official little guy came out and saw his shadow… so, as far as Pennsylvania is concerned… six more weeks of winter. On the other hand, Ontario's Wiarton Willie saw no shadow, so it's an early spring for them. Here in B.C., I'm not sure we have an official groundhog to make the call, so I'll do it – and it's very easy, because unless we hit one of our annual 20 days of sunshine (which obviously today we didn't), it'll be cloudy and gray, which means no shadow, which means an early Spring. Great! I can't wait to go… nowhere.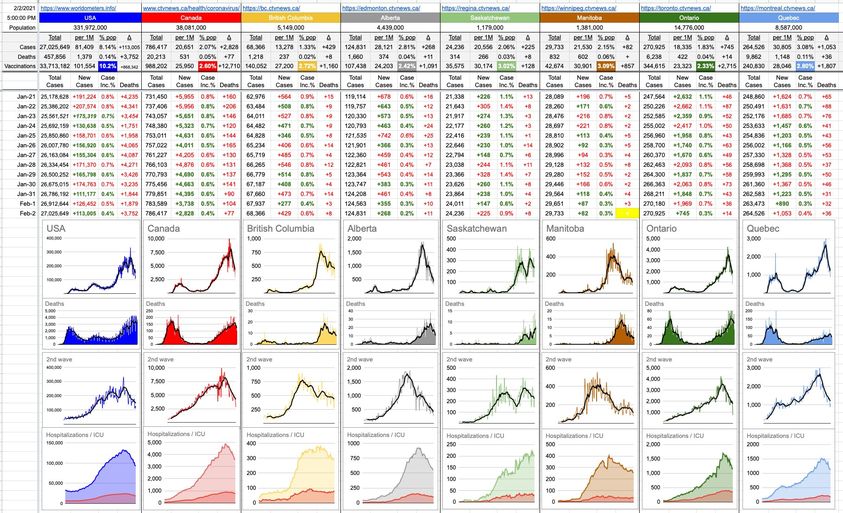 26 Likes, 2 Shares