Unrelated to everything… although relevant in that people have opinions they like to share… comes this, from a story that made waves a few years ago…
When you mention Nestlé around here, it's like mentioning the Satan of corporate greed. These miserable people come in here, steal our water, and then sell it back to us for criminally high prices. It's outrageous, it's unacceptable, our government sold us out for next to nothing, somebody do something.
We, here in B.C., are blessed with some of the most bountiful and freshest water on the planet. We completely take it for granted, and only occasionally feel the pain when our water needs to be shut off for the day for repairs. Oh, the humanity, how will we survive. We are so, so lucky.
For centuries, people have been bottling fresh water and taking it to places where it's needed. There are places in the world where you simply can't drink the tap water, and you come to depend on it. Sidenote, when I lived in Northern Chile in 1987/1988, water was the equivalent of $3 a bottle, while beer was about 25 cents. I spent a lot of time pretty buzzed… because that water was totally undrinkable. The water was so loaded with calcite that if you didn't dry it off after washing your hands, you'd quickly find them coated in chalk. The water was sticky and gross – and that was when you could get some actual water pressure.
Around here, there's nothing wrong with the tap water. Far from it. It boggles the mind that people literally fill up bottles from our tap water, and then sell it back to us… and we buy it, like it's magically better for some reason. It's not. A cheap home filter will give you the same quality. An expensive home filter will give you much better quality, but most people don't actually need it. Not around here. We have amazing fresh water, and more than we know what to do with. Accordingly, forever, the policy has been "take as much as you want" – so long as you don't pollute the environment. Businesses have been parked on the banks of the Fraser for decades.
One day, a few decades ago, Nestlé showed up and set up shop, taking some of that Fraser River water and bottling it. No one said much, because nobody knew and or cared.
The government, at some point, did care. These guys are taking our water for free and then making a commercial enterprise out of it. Shouldn't they be paying at least something for it? Maybe they should.
The government approached Nestlé and said, hey, maybe you should be paying for this water. Nestlé said sure, how much? We're not sure, said the government… we're going to study it and get back to you. Sounds good, said Nestlé.
Then the government figured out it'd cost a lot of money to study this issue… who's using water, how much of it, how much should we charge, how much can we charge, how to we meter it, how do we control it, who's going to manage it… and so on. It's complex. The government figured it'd cost close to $10,000,000 to study it properly, and came up with the genius idea to get some of these commercial enterprises to pay for it.
Hey Nestlé… how about you pay for this study? Sure, said Nestlé.
OK, said the government… here's how we'll do it. We want ten million dollars… you guys pull out a zillion gallons of water a year, and we will charge you enough cents per zillion that we can get our money… and once we've figured it out, we will charge more, but this is a good start. Sure, said Nestlé.
And that is where Nestlé, who had been paying zero for the water, now began paying a nominal amount for their water. And when that tidbit of info hit the newswire, the shit hit the fan. Because the story that got told was very simple; the government just sold us ut. How can the government let them steal our water for fractions of a penny per litre… and then sell it back to us for 10,000x the cost. They should be charged $1 a litre! $2 a litre! $10 a litre! They should all be arrested and thrown in jail!!! Our poor precious water!!!
Do you know how much water Nestlé pulls out of the river? If you could dam the river for a certain period of time, how long would it take to accumulate all the water that Nestlé takes in a year? A month… no… of course not. A week? A day? OK, a day… that's still a lot, sort of. Except it's not a day. It's not even an hour. It's less time than it's taken you to read this far. In seventy-two seconds, Nestlé takes their annual haul of Fraser River water… because, unfortunately, as priceless as our crisp, clear, pristine drinking water is, 99.99999% of it flows into the Pacific Ocean. It'd be nice to be able to tap into a lot more than that, but the infrastructure isn't there.
I'm not sure what the status is of these water studies, nor what the plan is to bill industries that rely on it. It's come to light that any meaningful increase in industrial water cost would cause big problems for some of those businesses who count on super-cheap (if not free) water. Like I said, it's complicated.
If there's any aspect of this that relates to the pandemic, it's the part where well-spoken agendas, as one-sided as they may be, sometimes fill the echo chamber at the expense of a balanced opinion. There's often more to the story.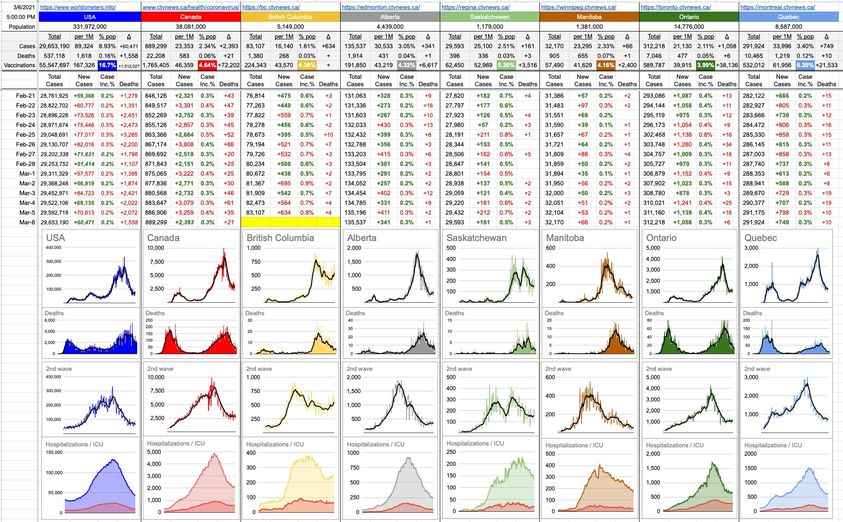 18 Likes, 2 Shares