At some point after this weekend, the streets of some impoverished nations will be filled with people wearing colourful shirts of this weekend's SuperBowl's losing team.
You may have noticed that about ten seconds after a championship game is concluded, the winning team is already smiling and celebrating and spraying champagne all over each other while already wearing t-shits and ballcaps and other paraphernalia branded with their victory. Indeed, some of that stuff sometimes makes its way to the sidelines before the game is even over if it's a blowout; a few minutes before the end of the game, you may already see some of it. You'd have to assume all of that was already pre-printed (correct) which means there must be all of that pre-printed bling branded with the losing team as well (correct again). So… what happens to all the losing jerseys?
There are charities that gather them all and donate them to needy countries. The people in these places barely know that the NFL is, and even if they do, probably don't care. You won't see many t-shirts in Seattle celebrating the Seahawk's SuperBowl XLVIII over the Patriots, but you might in places like Zambia, Armenia, Nicaragua and Romania. You would have been seeing them in Seattle had Pete Carroll decided to allow Russell Wilson to just hand the freaking ball to Marshawn Lynch, the best running back in the game at the time who, from the one yard line, almost certainly would've run it in for the winning touchdown and… yay Seahawks and… wait, what just happened. Still too soon.
Many years ago, I paid $800 for two little laptops from an initiative called OLPC – One Laptop Per Child. These cool little Linux-based indestructible hand-crankable laptops were meant to wind up in the hands of every child in Africa at the eventual cost of $100 each. For my $800, I got two of them… and two random kids in Africa got them as well.
Also, many years ago, I bought three indestructible soccer balls. They're a little harder than most, but they're un-puncturable… and indeed, more than ten years later, they're still kicking around here (haha) – and hopefully, so are the three that wound up in the streets of Africa somewhere, as a result of the same sort of "buy one here and kid in Africa gets one too" plan. I hope somewhere, there's a kid kicking around one of those balls while wearing a Canucks Stanley Cup Champions 2011 t-shirt.
This is all good in that someone that can afford something overpays, so that someone else somewhere where they couldn't afford it benefits as well.
But today… well, it's weird to think of Canada being on the receiving end of that sort of arrangement, but here we are. Canada, last April, signed on to the United Nations COVAX plan to get 2 billion doses of vaccine to impoverished nations. The rich counties pony-up and pay for vaccine to get manufactured… for themselves, and for those countries that can't afford it. Laptops, soccer balls, vaccine. Same deal.
But given the bottom-of-the-totem-pole treatment we're getting with respect to vaccine delivery (we just recently learned that we'll be getting even less Moderna than the already-less Moderna we'd learned about last week) – and, also, I know… the bottom of the totem pole is reserved for the important part of the story – the least important stuff is that the top – I'm just using the colloquial expression… ok, where was I…
… so… we, Canada, are now intending to draw from the COVAX supply… because we're short. Canada is the only G7 country to do. Hey, gimme back one of those laptops… I need three. Hey, my soccer ball broke… gimme one back. I'm not sure it's appropriate as much as I'm not sure it's not. We paid $440 million into COVAX in September, and perhaps that should entitle us to at least what we were promised. On the flipside, people are people everywhere in the world and everyone deserves this vaccine, and I'd certainly back an infrastructure that distributes it fairly. There are people in Africa who'd prefer the vaccine… instead of the losing Tampa Bay Bucs (sorry Tom Brady fans) jerseys.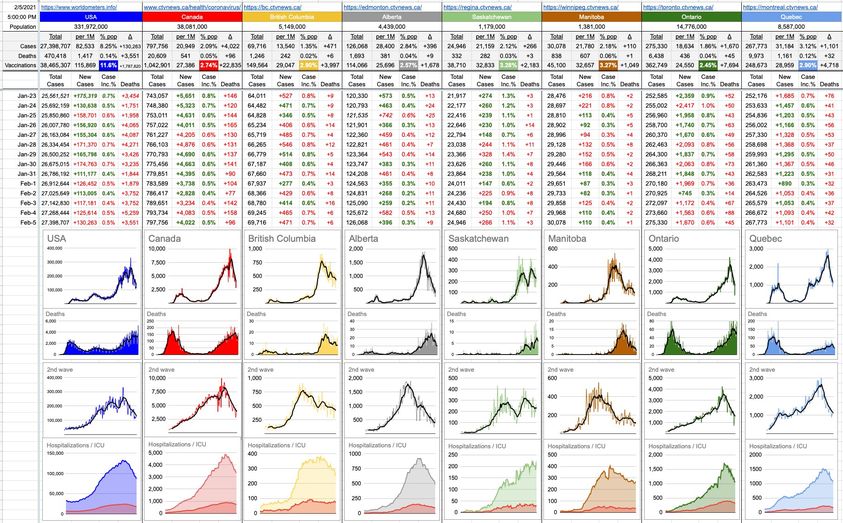 23 Likes, 1 Shares