Horatio Kemeny
There's an interesting experiment going on, on the other side of the planet. Our furniture-making, meatball-eating, hockey-dazzling friends in Sweden's approach to managing this crisis is a lot different than what's going on around here. We've seen a few examples around the world how not to do things. How a few days here and there can have a drastic effect. How not taking it seriously can have big implications. The Globe & Mail wrote about Sweden last week. CNN picked up on it yesterday. Sweden, not a culture that I would associate with recklessness, is taking a huge gamble. If I were a betting man (and I assure you, by any definition of that expression, I am), even I wouldn't rolling the dice the way they're doing it.
I will summarize the articles, add a few comments… and something they left out.
To summarize, their schools are open, their pubs are open and there's no lockdown. Gatherings of more than 50 people are banned, but everything else is left up to the honour system. Trust that others will do the right thing. Recommendations, not orders. Their PM calls it a "common sense" approach. Their chief epidemiologist is saying that it's working "reasonably well" so far, and that they've had "not very much" spread into elderly homes and "almost no" spread into hospitals. In other words, it is, at best, working ok, but it's in the elderly homes and it's in hospitals. So basically, it's everywhere.
Not everyone has bought into the plan… a letter from 2,000 doctors and public-health experts went out, urging the government to get a reality check. But for now… many Swedes get it, and are isolating and maintaining social/physical distancing. But also, many are hosting big family Easter celebrations this weekend. How will it all play out? The articles suggest we'll know "next month". I think we'll know a lot sooner.
A quick look at numbers shows a sharp increase yesterday… like, double the number of new cases from the previous day… a 12% increase, implying a TTD of 6 days… so if that rate remains constant, their 9,000 cases will be 18,000 next week and 36,000 the following week. I will say that the growth rates before that were lower, and as I said yesterday, one day doesn't make … [Continue Reading]
Horatio Kemeny
Oh, Canada… our home and native land is a lot more relevant to the majority of people reading this, so I've made some changes. You will notice that the original graph that started this little daily update is gone. It's served its purpose, which originally was to map an apples-to-apples comparison of Italy, the U.S. and Canada — with South Korea thrown in for reference — if you were to superimpose their trajectories from a comparable starting point. When that started, Italy was 10 days ahead of the U.S. and the U.S. was 10 days ahead of Canada. On the graph, all of those lines were on top of each other, and it was going to be interesting to watch what happens as time goes on.
To summarize what has happened since… and you can look at yesterday's final version of that graph to see what I mean (or go back even further and see when things really started to diverge)… The U.S. was actually doing better than Italy for a while, until all hell broke loose… then they burst through that green line and have never looked back. Italy, while still in the midst of their crisis, has definitely seen its curve flattening. Canada, for a while worryingly tracking the U.S., "fell off the bottom" of that blue curve and has comparatively been doing a lot better. The B.C. line, on this scale, is indistinguishable from the X-axis. Indeed, it's the scale of this graph (linear Y-axis) that has rendered it useless. The unfortunate blue-line numbers will just keep squashing the other lines down, so we retire this graph with full honours, though I will still track the data and update the TTD logarithmic graph of Canada vs. The World.
But there are two new graphs… one, on the bottom left, is exactly what I described above, but just for Canada… with B.C., Ontario and Quebec. You will notice with some degree of curiosity that the Quebec line is above the Canada line… how can that be? Isn't Quebec still part of Canada? Let's not have that particular discussion, right here, right now. Yes, of course they are, so what's the deal?
Nos amis from la belle province, with their usual panache, were simply late to the party. Given that this graph … [Continue Reading]
Horatio Kemeny
Back in 2007, a friend approached me. He'd started a company some years earlier, and it had reached a turning point. We talked about what it needed to take it to the next level, and I saw enough potential in it to get involved. He was the CEO, he had a vision, and I shared it. OK, let's do this. As part of it, I also brought in one of my closest friends, and together we built it from a handful of people to an industry leader. In reality, those two built it with their day-to-day hard work. I just threw in my two bits when needed. Early last year, we sold it to a much larger company. A very nice success story.
Yesterday, I had a Zoom call with those two. One of them is the former CEO. The other is the former president, but still runs what used to be our company as a subdivision.
And it wasn't a great call… just an update to let us know that our acquirer, themselves now facing top-line revenues that were 15% of original projections, had to let a lot of people go, including many of the key people who'd help build our success story. It knocked our piece right back to 2007. The worst part of it was hearing the names… these great, talented people who'd been such an integral part of building this thing… all out of a job.
Also yesterday, I had a very nice chat with a reporter who covers horse racing. She wrote a very nice article which you can see directly below this post. As much as it was a discussion about me and these posts, it also got into a much larger discussion with respect to the horse racing industry and the people it employs… including her. A sports reporter without any sports to write about… now what.
Like so many businesses and industries and people these days, very few have worst-case scenarios designed to deal with zero revenue. A pub might have a great month because the weather was good and the patio was open and jammed with people enjoying the sunshine. Or what could have been a great April and May were not, because the Canucks missed the playoffs. The guys in the offices have lots … [Continue Reading]
Horatio Kemeny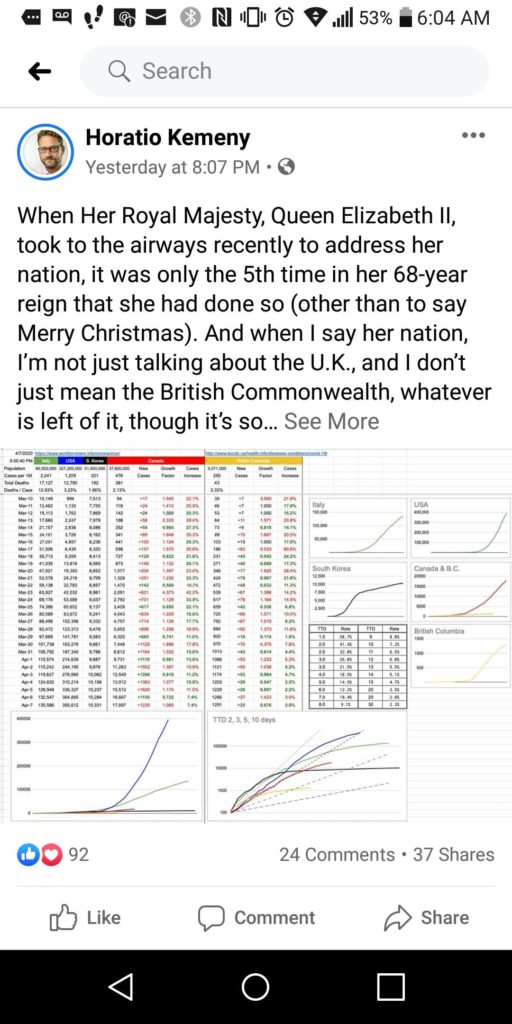 Horse Owner Horatio Kemeny Reaching Many With Informative Posts
Swift Thoroughbreds' Kemeny has attarcted a large following with his daily graphs and chatty write-ups about BC and Canada's battle against COVID-19
View Original Post and All Comments on Facebook: 133 Likes, 25 Shares
Share...