Horatio Kemeny
Once in a while, we have a movie night here at home…. who are we kidding, every night is movie night these days… and recently (well, before Tiger King), we saw a movie that could best be described as a combination of Groundhog Day and… Alien? Predator? War of the Worlds? If you're not familiar with Groundhog Day — you should see it. To some extent, it feels like we're living it these days… but to summarize (spoiler alert), in the movie, a normal guy (well, Bill Murray) is caught in a time loop where he lives the same day over and over until he's finally lived it perfectly and then his life can go on.
Those SciFi movies I listed all have in common the good-guy-humans vs. the bad-guy-aliens. In all cases, the good-guy humans prevail, with varying degrees of importance… saving themselves, saving the world, saving the universe.
Mix the two together, and what you get is humans vs. aliens, but with an interesting twist. Typically, our hero goes from battle to battle, close call to close call… until finally, he prevails. But in this movie, our hero keeps dying… because these aliens are seriously powerful. He doesn't last more than a few minutes the first time. But as time goes on, he gets a little further along in his quest to kill the aliens — before he's killed, and then wakes up the next day, and starts all over again. It's a Hollywood movie (Edge of Tomorrow) with a Hollywood A-lister (Tom Cruise), so (spoiler alert) you can guess the ending… but here's the takeaway of the whole thing… when he finally gets it right, when he finally — after brutally and painfully dying hundreds of times — is able to extinguish the aliens and life can go on and humanity is saved… nobody knows. It's like nothing ever happened. It's like the aliens never even showed up. All of humanity benefitted from the suffering this guy endured, but no one will ever know.
As we starting emerging from lockdown and navigate the complicated plan of getting back to normal, more and more of the crazies will emerge. There was a protest over the weekend where some people with "Fake News" and "CON-VID-19" signs showed up. Apparently, this is all a big conspiracy to… to… well, to what? These guys typically bundle-up all of the current conspiracies, so it's difficult to unravel a logical narrative that might even make sense. The Chinese created it and activate it with 5G and have the vaccine but won't give it to us but killed thousands of their own people to show it's real but Deep State and Illuminati and government power-grab and… and… well, even if that mess of insanity were true, how exactly does Canada figure into it?
Locally, Kennedy Stewart, mayor of Vancouver, is getting increasingly worried that this city is reaching insolvency… and it's a serious concern. As this goes on, fewer and fewer people will easily be able to pay the their mortgages or rents; where and when they can, they will. That's the priority. Property taxes, which greatly fund this city, are lower on the list, and the many people who will throw their hands in the air and say, "What exactly do you want me to do? You know I haven't worked in 3 months" have a good point. These taxes may be deferred and eventually will probably get paid ("deferred" is very different than "forgiven") but the city needs money now. So they asked the provincial government for $200 million. And Victoria isn't themselves rolling in cash these days either, so they will have to ring up Ottawa with a similar request. This then gets into a more complicated discussion at the federal level regarding literally printing money vs. inflation vs. stimulus vs. many other things, none of which are great for this country in the long run… which begs the question — to what end? To what end might the Canadian (or provincial or municipal) government be involved in some giant conspiracy? Not that you can ever intelligently argue with these people, but I'd love to hear that particular answer. We have created a big massive hoax which hurts everyone… across the board, everyone is suffering, including every single one of those government workers and officials… it will take years for us all to recover… because WHY?
I've made the mistake of answering a few of those sorts of messages privately, and my well-reasoned arguments are simply answered with "You just don't get it." On that, we can certainly agree. No, I don't get it and I never will… but what I will point out is that all of those idiots will end up benefiting from the sacrifices we've all made, and it sounds like they won't even be able to recognize it. We are all Tom Cruise.
And when the pandemic doesn't get out of hand here, because of all of the intelligent and necessary measures that were put in place and that were followed by most of us, these are the idiots that will proudly be announcing to everyone, "See? There was nothing to worry about. This was never a concern, never a problem, and all of you bought into it. Sheeple!!"
That's ok. You, like Tom Cruise at the end of that movie, can just sort of chuckle to yourself. You, me, we all took the hit for the greater good, and it was an expensive one… but we will recover.
And when and how exactly do we start that recovery? I'll be happy to offer my completely-non-expert opinion in the coming days, and there are some encouraging signs to guide that. One is that the numbers really do look good. If you scan down the columns labelled "Cases Increase", they tell an optimistic story, and not just in B.C.
Also… here in B.C., serological antibody tests are just around the corner… within the next couple weeks. This is the test that can tell you whether you've ever had the virus, symptoms or not. I don't know what the rollout looks like… in a perfect world, we'd all get one instantly and we'd know our own status and that would obviously guide a lot. That's not how the world works, but whatever way gathers the most information quickly and efficiently — that's what we'll see.
Until then… it's working. Keep doing it. That light at the end of the tunnel is not a train screaming towards us.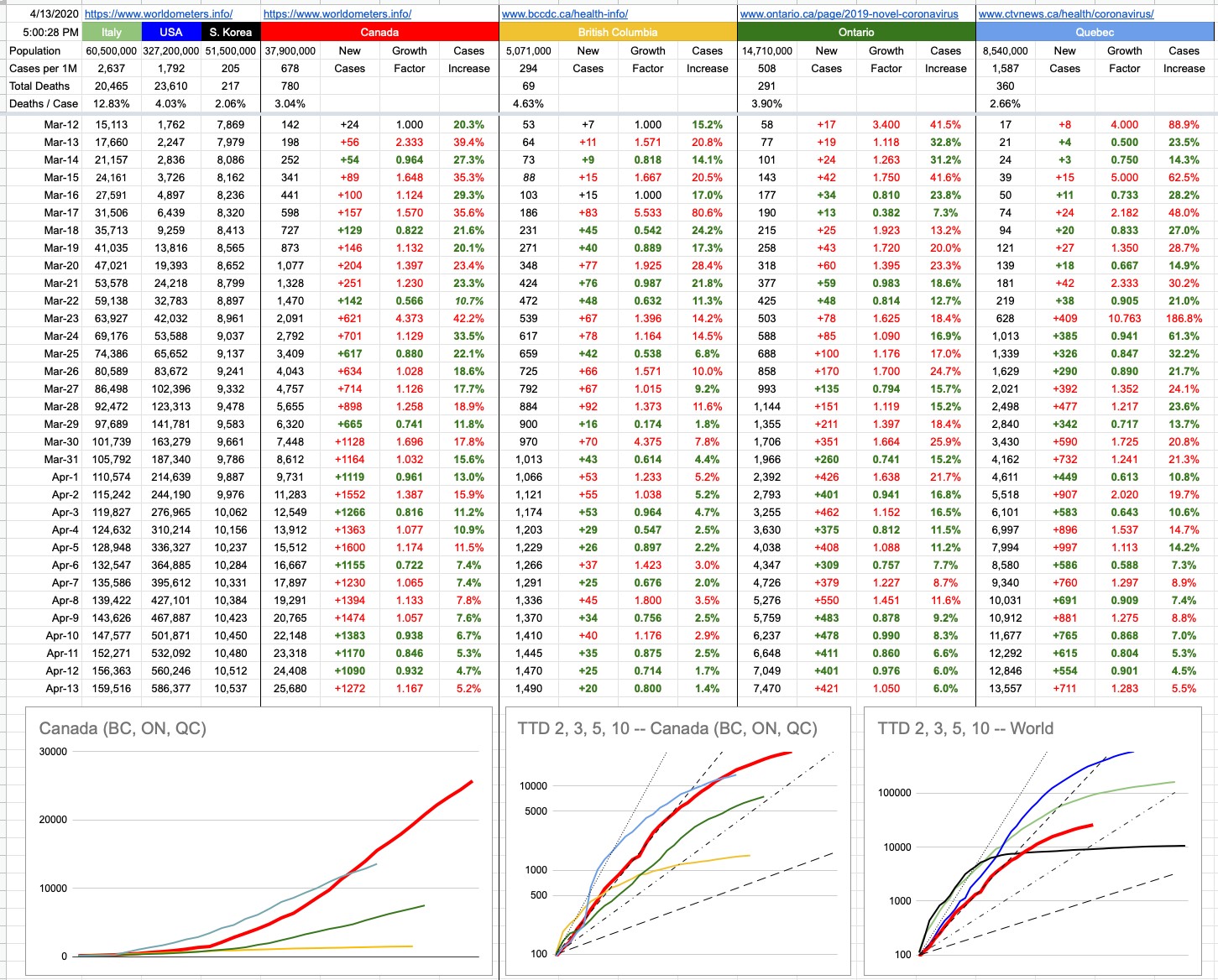 Horatio Kemeny
Today is the day we don't get numbers in B.C. — Dr. Henry and Mr. Dix are taking a well-deserved break, so accurate numbers will have to wait till tomorrow. For now, as usual, I've plugged in my B.C. guess for the day — I'll fix it tomorrow. But assuming a good day locally, it'd make it a good day nationally. Growth rate was down in Ontario for a 4th straight day, and 3 straight days in Quebec.
But while they're resting, and the numbers people are resting… as many of you are as well… let's look at things from a much bigger-picture point of view. Like, these days, the earth is also resting.
If you were to believe that the earth is in some way alive and/or conscious, you'd be making the interesting parallel these days that, as a living being, Gaia finally got sick and tired of the virus infesting Her and decided to vaccinate Herself. For the most part, the young people who had nothing to do with wrecking the place would be spared… but the older you are, the more responsible you are for the disregard and destruction and pollution and reckless abandon that have finally made Mother Earth say "Enough".
Gaia doesn't have to wipe us all out to heal Herself. She just needs to give us a bit of a wake-up-call, and not much of one as it turns out.
In the grand scheme of things, it's interesting to note just how irrelevant humanity is to this planet. In a matter of mere weeks, there are changes occurring. The sky is more blue. The water is cleaner. The air is undoubtedly less polluted. People in Punjab can see the Himalayas. People in L.A. can see the Hollywood sign. If there was ever a sign that a little change can make a big difference, there you go. And for all of us thinking we're wrecking the planet, we are… without a doubt. But if you think this planet can't fix itself once humanity is gone, that'd be wrong. It can and it will, very easily. Our time on this earth is so irrelevant in Her own grand scheme of things, that… well, let's explore it. Let's start by talking about big numbers.
Let's say you walk out of the bank with $1,000 in cash. It's a collection of different bills… you're not sure exactly how many hundreds or fifties or twenties, but it adds up. The teller counted it out in front of you. There's a Starbucks next to the bank, so you pop in there and get that Pumpkin Spice Latte you've been craving. Yes, certainly by October, you'll be doing this.
The PSL costs… whatever, you're not paying attention. You give the barista a ten dollar bill and get back a handful of change… some Toonies and Loonies and whatever else, which you jam into your pocket. If someone at that point had asked you how much money you have on you, your answer would be "Around $1,000". On your way out of Starbucks, there's a homeless guy there. You fish into your pocket and give him a Toonie. How much do you have on you now? "Around $1,000" is still accurate.
You walk a block and there's a shiny Loonie sitting on the sidewalk. Quick Karma repayment! You pick it up and put it in your pocket. How much do you have now? Yes, around $1,000… and if you hadn't picked up that Loonie, the answer would still be the same… around $1,000. That Loonie is little more than a round-off error in your present grand scheme of things of how much you have on you. And that $1,000 is similarly related to a million dollars. If you have around a million dollars, adding or subtracting a thousand doesn't change anything. It's still around a million dollars.
I mention all that to create some context and scale between a number we're all familiar with… a thousand is relatable in many ways. A million less so… we know it's a lot bigger, but sometimes we don't realize just how much bigger. And to keep going, when we hear about a billion, we maybe don't quite realize how big that is. A million is pretty irrelevant when you're taking about a billion. A million seconds is less than 12 days. A billion seconds is close to 32 years. Indeed, 3 million heartbeats is a few days. 3 billion is your entire life.
Let's pretend we map out the age of the earth (4.5 billion years) as a long road — the Trans-Canada highway. And let's walk it. We'll start at Mile 0 in Victoria — a charming little park at the foot of Douglas St. There are some stairs down to the beach… those would've been Terry Fox's last steps before dipping his artificial leg into the Pacific Ocean, had he completed his Marathon of Hope. Today is the 40th anniversary of the start of his heroic effort, so we'll begin our walk down there, one foot in the water on our long journey to St. John's. Each step to the east is one step back in time.
At this scale, each step is 5,800 years. One step out of the water and that's pretty much all of recorded human history. In fact, by the time you hit the monument at the top of the stairs, that's about 600,000 years. Humans haven't been around that long. And we're still really at Mile 0. The era of humanity is barely a rounding error, as far as the age of the earth is concerned.
Keep walking east, going back in time as you do… dinosaurs died out somewhere near Abbotsford… and only appeared somewhere near Kamloops. Mammals appeared somewhere around Cache Creek. And right around Golden, before you even set foot in Alberta, now we're at 540 million years ago… that was the emergence of anything more complicated than single-celled life forms. And beyond that, there is a lot more time and distance. It's all single-celled organisms until somewhere in central Quebec, and then, there ceases to be any life at all. Quite a journey. Canada is a big place. 4.5 billion years is a long time.
The point of all this… as much of a blip in the radar as humanity might be, and as much as the thought of Gaia being this living/breathing thing that Herself is sick… we fight off sickness by being healthier; by allowing our bodies to heal. By giving them the opportunity to do so. A vaccine doesn't cure you; it allows your body to cure itself. A ventilator allows you to breathe, and it's the processes beneath that, carrying oxygen-rich blood to your cells… which heal you. Anything that stirs your immune system into action, whether physical or just mental (placebos work for good reason).
So while the earth has temporarily kicked us all into a state of self-reflection and healing, we can see that it doesn't take much to heal the bigger picture… and it also gives us an opportunity to find some sliver linings to this big cloud, because there are many. I'm as anxious to get back to the real world as you are, but already I can see some changes I'll make going forward, and I'm sure many of you have as well. We've all been learning a lot about ourselves and our habits and what's important and what isn't.
I leave you with this… written by Kitty O'Meara, which will read like a prayer for those who are religious, and a like a poem for those who are not. Either way, beautiful words that make you think as you stare out at the sky on this beautiful day… whether out the window or from your balcony or porch or back yard… and yeah, the sky does look more blue, doesn't it?
And the people stayed home.
And read books, and listened, and rested,
and exercised, and made art, and played games,
and learned new ways of being, and were still.
And listened more deeply.
Some meditated, some prayed, some danced. Some met their shadows.
And the people began to think differently.
And the people healed.
And, in the absence of people living in ignorant, dangerous, mindless, and heartless ways, the earth began to heal.
And when the danger passed, and the people joined together again, they grieved their losses, and made new choices, and dreamed new images, and created new ways to live and heal the earth fully, as they had been healed.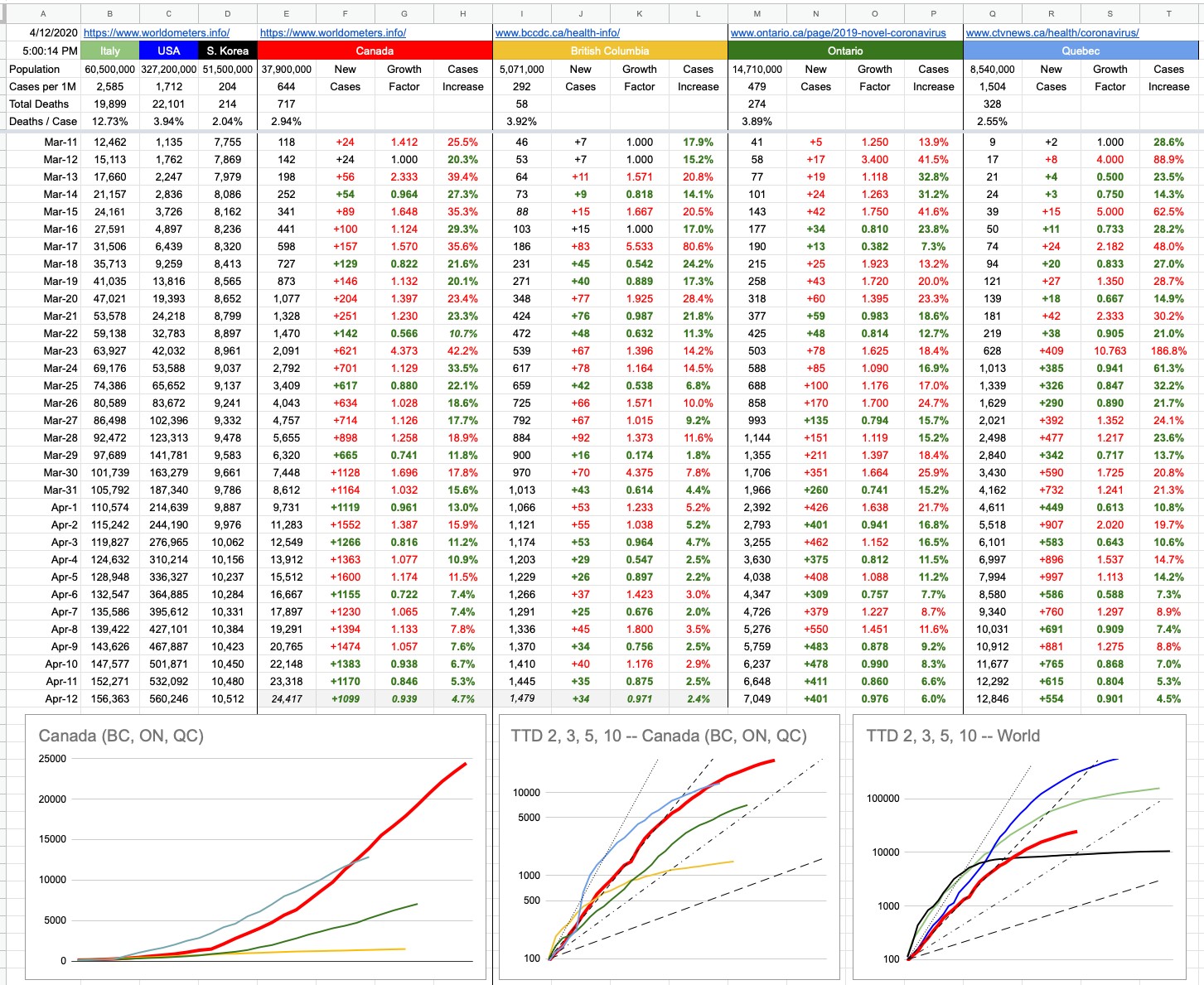 Horatio Kemeny
For the sake this example, I'm about to virtually kill a lot of people. Please don't feel bad — they never existed.
Let's imagine you want to drive from Vancouver to Seattle… and let's further imagine that there's a winding road that follows the coastline all the way down. Sidenote — for part of it, there is… there's a 20-mile winding road from Bellingham to Burlington called Chuckanut Drive that's well-worth the detour. Spectacular views and much more.
So… there's the imaginary coastline road, and there's Highway 99/I-5 which actually exists.
And you're a new driver, kind of nervous… the thought of the fast-moving traffic on the highway scares you a bit. But you also know the coastline road is very winding, and you've heard of cars losing control and going over the cliff. You do your research and quickly find a report that tells you that over the last two years, accidents killed 45 people on the highway and 24 on the coastline road. Again, I'm making this all up. Nobody was hurt in the creation of this posting.
No brainer, you think, the coastline road is twice as safe as the highway… because that's the ultimate measure of safety, and there can't be too much more to it…
Well, there can be… and if you keep reading down my imaginary report, you'll find that the coastline road seems to have about one accident a month. Like clockwork, once a month, a single-occupant vehicle loses control, rolls down the 100-foot cliff and kills the driver. That accounts for the 24 deaths.
On the highway, as it turns out, some idiot last year was celebrating something… and rented out one of those monstrosity stretch Hummer limos, filled it with 43 of his closest buddies… and apparently everybody, including the driver, got drunk… and the limo, with its full tank of gas, crashed into a telephone pole, exploded into flames and killed all 45 occupants.
That changes things a bit, doesn't it…
Those 24 single-car accidents each have a little circle around them. The HummerLimo has a single, big circle around it. Around here, the Lynn Valley Care Centre has a big circle around it too, as does the administration office of Lions Gate Hospital. The Mission Institution. The Okanagan Correctional Centre in Oliver. The Blueberry River First Nations community near Fort St. John. All of them have their own little circles.
So… let's talk about clusters.
From an epidemiological point of view, a cluster is defined by infections that are grouped by where and when they happened. If those two things are close to each other, they're part of the same cluster. Infections can be clustered, deaths can be clustered. Really, any statistic can (and usually should) be associated where it's relevant.
In B.C., the Lynn Valley Care Center (where the average age of residents is 87) recorded Canada's first COVID-19 death on March 8th. Since then, it's accounted for an additional 17. Here in B.C., our mortality rate per resolved case is 6.0% when you count Lynn Valley, and 4.3% when you don't. This is in no way minimizing the importance of each and every one of those people; rather, it's just to point out where they should fit in statistically.
Treating those unfortunate 18 deaths the same as any random 18 in the city would skew things significantly; there's clearly a lot more to learn about those 24 individuals that drove off the cliff than by analyzing the demographics of the 45 people in the limo.
This is all something to keep in mind when reading reports that tend to favour skewing data towards their intended conclusion… something I'm saying for my own benefit as much as yours, because these days I'm being bombarded with articles and reports and opinions, many of which are diametrically opposed to each other. All of them claim credible evidence. I'm trying to keep a level head, and you should too.
As for today's numbers… well, it's green all the way across the bottom. From a purely aesthetic point of view, that's as good as it'll ever get… and it's what I consider great evidence that what we're doing is working. Let's keep at it, and let's hope those people that aren't such good listeners don't become clusters of their own once this long-weekend is over.
Horatio Kemeny
There's an interesting experiment going on, on the other side of the planet. Our furniture-making, meatball-eating, hockey-dazzling friends in Sweden's approach to managing this crisis is a lot different than what's going on around here. We've seen a few examples around the world how not to do things. How a few days here and there can have a drastic effect. How not taking it seriously can have big implications. The Globe & Mail wrote about Sweden last week. CNN picked up on it yesterday. Sweden, not a culture that I would associate with recklessness, is taking a huge gamble. If I were a betting man (and I assure you, by any definition of that expression, I am), even I wouldn't rolling the dice the way they're doing it.
I will summarize the articles, add a few comments… and something they left out.
To summarize, their schools are open, their pubs are open and there's no lockdown. Gatherings of more than 50 people are banned, but everything else is left up to the honour system. Trust that others will do the right thing. Recommendations, not orders. Their PM calls it a "common sense" approach. Their chief epidemiologist is saying that it's working "reasonably well" so far, and that they've had "not very much" spread into elderly homes and "almost no" spread into hospitals. In other words, it is, at best, working ok, but it's in the elderly homes and it's in hospitals. So basically, it's everywhere.
Not everyone has bought into the plan… a letter from 2,000 doctors and public-health experts went out, urging the government to get a reality check. But for now… many Swedes get it, and are isolating and maintaining social/physical distancing. But also, many are hosting big family Easter celebrations this weekend. How will it all play out? The articles suggest we'll know "next month". I think we'll know a lot sooner.
A quick look at numbers shows a sharp increase yesterday… like, double the number of new cases from the previous day… a 12% increase, implying a TTD of 6 days… so if that rate remains constant, their 9,000 cases will be 18,000 next week and 36,000 the following week. I will say that the growth rates before that were lower, and as I said yesterday, one day doesn't make a trend. But the whole thing makes me very uneasy.
Some other numbers that are troubling and not mentioned… once you become infected and are verified by a test, you become a statistic. Your statistic will get modified as time goes on… symptoms or no symptoms, hospitalization or not, ICU or not and so on. The final statistic you will have attached to you is in the "Resolved" category, and it can go one of two ways: Recovered or Deceased. To be clear, this doesn't include anyone who may presently have it, symptoms or no symptoms… this is exclusively those who definitely had it, and now definitely don't. At last tally, Sweden had 1,251 resolved cases.
Here are the numbers, for comparison… for all known resolved cases, these are the percentages of those who fully recovered:
South Korea: 97.2%
Canada: 91.3%
Italy: 61.8%
USA: 59.5%
And while we're here… BC: 94.1% — and that number would be higher were it not for the type of clusters (like long-term care homes) that we've experienced here.
And Sweden…? 30.5%.
Out of 10 people in Sweden who've had this thing and it's run it course, 7 have died. Which seriously brings to question how deeply they have their heads buried in the sand. That is a staggering number for a first-world country that claims to have things under control. I hope they come to their senses soon.
Closer to home…
There seems to be some confusion when it comes to physical distancing. Stay home or go out in the sun but don't get together with others and jog, but away from other people and bike, but not where others do, so bike lanes are sort of not ok, so what's the deal…
Here's the deal. You can go out if you pretend the following… pretend that you're carrying this virus… you're very fortunate that you have no symptoms, but you're very infectious… and, if you give this to someone else, the moment you do, a lightning bolt will shoot out of the sky and strike you dead, instantly. Just like that.
So… what do you need do to avoid that? A mask or mouth covering helps… a lot. It doesn't help you as much as it helps others, but like that parable where everyone's arms are frozen straight out and everyone fears they'll starve to death because they can't feed themselves… well, duh, just feed each other. Everyone wins when you do your part.
When you cough or sneeze, you eject particles into the air…. little droplets within which the virus is carried… and those droplets can hang around, suspended in the air. Not for hours, but for several seconds. While the virus itself is small enough to penetrate most fabrics, water droplets are comparatively much bigger… so wearing a mask is like coughing or sneezing into your elbow or a handkerchief.
Assuming no masks, if you're walking single file outside with other people (Arbutus corridor, seawall, sidewalks…), maintain a distance of 4 to 5 meters. If the guy in front of you coughs or sneezes, it's unlikely to reach you. If you're jogging or slow biking, 10 meters. And normal biking, 20 meters. And if you're heading towards each other — well, you're in the wrong place. As much as I enjoy cycling, not there, not now. Someone else just breathing hard, let alone coughing/sneezing — within 20 meters of us approaching each other — I would be breathing his exhaust. I don't want to do that.
The numbers across the country look good. Flat, or lower… let's keep at it… and hope that the people who decided to ignore what Dr. Henry and Mr. Dix said about 100 times this week…. "This is not the time to…", and jammed up the ferry line-ups this morning, and swarmed Victoria and the Gulf Islands — don't wreck things for all of us.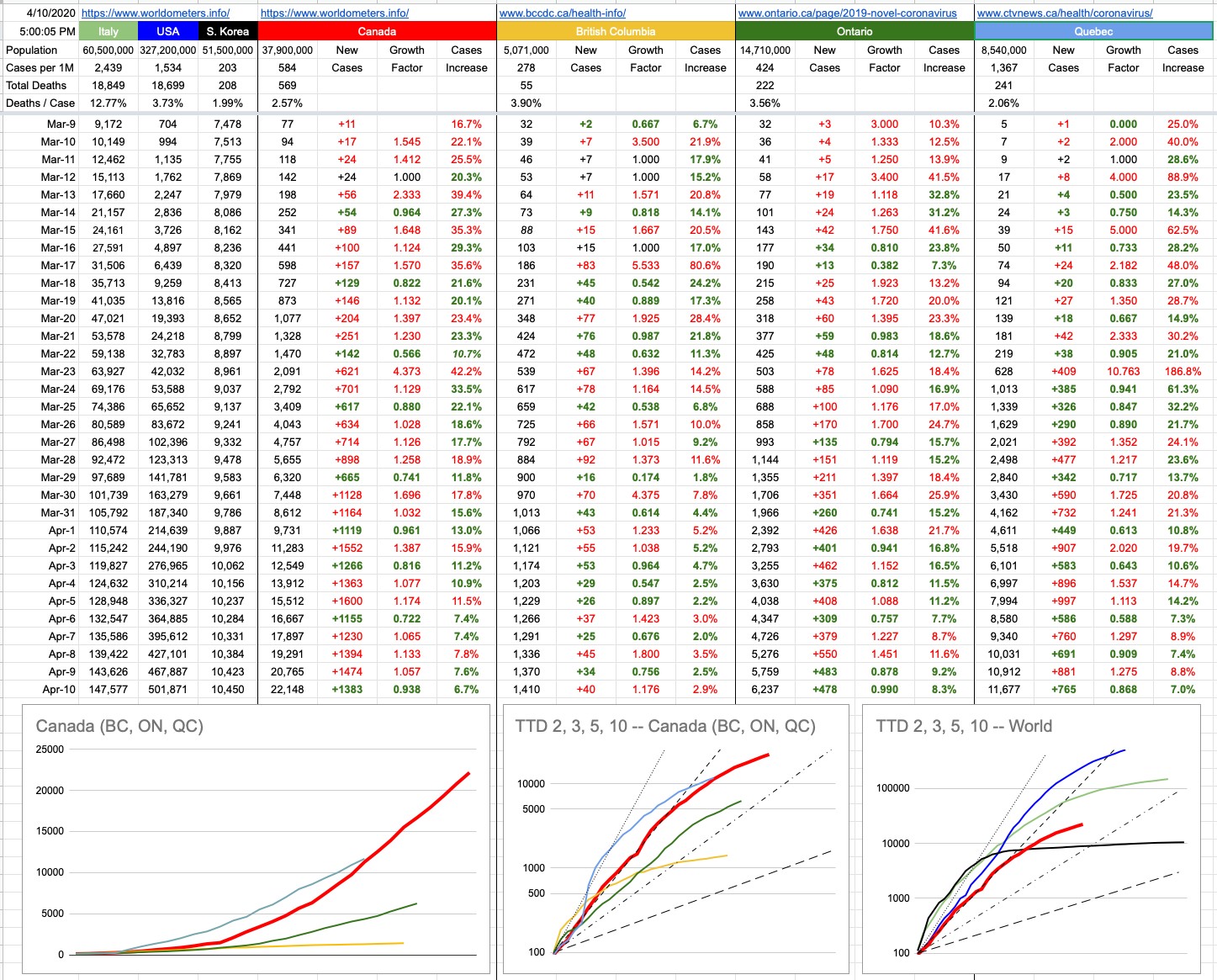 Horatio Kemeny
Oh, Canada… our home and native land is a lot more relevant to the majority of people reading this, so I've made some changes. You will notice that the original graph that started this little daily update is gone. It's served its purpose, which originally was to map an apples-to-apples comparison of Italy, the U.S. and Canada — with South Korea thrown in for reference — if you were to superimpose their trajectories from a comparable starting point. When that started, Italy was 10 days ahead of the U.S. and the U.S. was 10 days ahead of Canada. On the graph, all of those lines were on top of each other, and it was going to be interesting to watch what happens as time goes on.
To summarize what has happened since… and you can look at yesterday's final version of that graph to see what I mean (or go back even further and see when things really started to diverge)… The U.S. was actually doing better than Italy for a while, until all hell broke loose… then they burst through that green line and have never looked back. Italy, while still in the midst of their crisis, has definitely seen its curve flattening. Canada, for a while worryingly tracking the U.S., "fell off the bottom" of that blue curve and has comparatively been doing a lot better. The B.C. line, on this scale, is indistinguishable from the X-axis. Indeed, it's the scale of this graph (linear Y-axis) that has rendered it useless. The unfortunate blue-line numbers will just keep squashing the other lines down, so we retire this graph with full honours, though I will still track the data and update the TTD logarithmic graph of Canada vs. The World.
But there are two new graphs… one, on the bottom left, is exactly what I described above, but just for Canada… with B.C., Ontario and Quebec. You will notice with some degree of curiosity that the Quebec line is above the Canada line… how can that be? Isn't Quebec still part of Canada? Let's not have that particular discussion, right here, right now. Yes, of course they are, so what's the deal?
Nos amis from la belle province, with their usual panache, were simply late to the party. Given that this graph aims to compare apples to apples, its starting point is the same for everyone. Quebec recorded its 100th case March 18th or 19th. On that day, both B.C.and Ontario were around 250 each. Canada's total was around 800.
Forgetting when it happened, but rather how it happened, Quebec's numbers were not great for a while; they quickly accelerated at a frightening rate. They went from 100 to 1,000 cases in 5 days… a pace that exceeds Canada's overall trajectory. The good news for our frères and sœurs is that things have recently looked a lot better. In fact, while numbers keep growing, they are growing more slowly. The "Cases Increase" percentage columns all tell that same story. Social/physical distancing… you know.
Where are the Prairies, the Maritimes, the Territories in all of this…? Listen, you don't want to be on my charts… I aim to chart the big, significant numbers. Hope you never get so relevant that you need your own data column and squiggly line… anyway, there are only so many colours.
Special shoutout to Nunavut… with respect to this pandemic, they are having none of it. Ha Ha!! (Sorry). But indeed, they're the only province or territory with zero cases. How it that possible? It's very simple… the population density of our northern compatriots is 0.02 people per square km. In other words, everyone up there gets their own 50 sq. kms. In other words, go up there and draw a square that's 7km per side. It's all yours. It's also really cold. All of that combined equals automatically-imposed social/physical distancing. And check it out… zero infections. Case closed.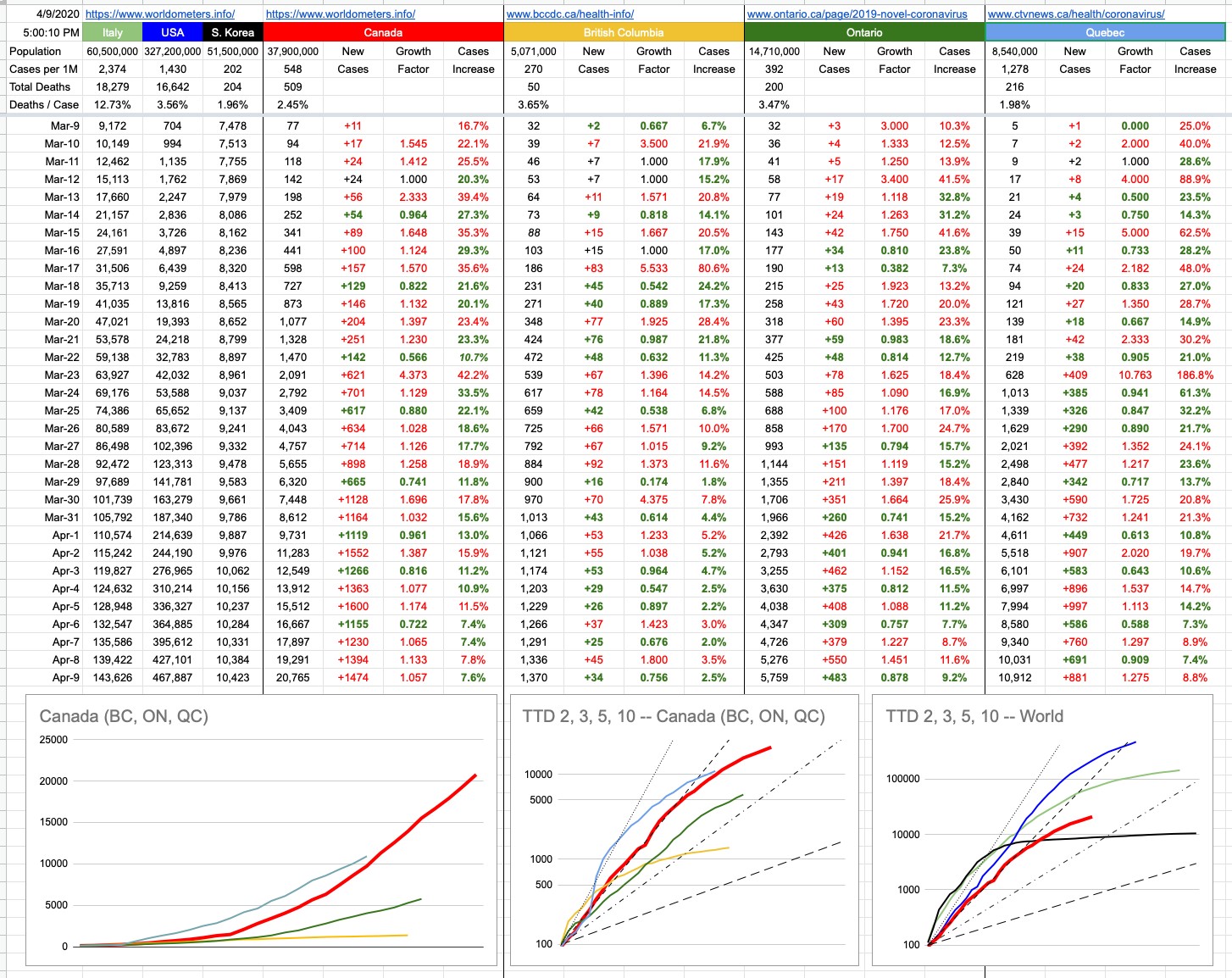 Horatio Kemeny
Back in 2007, a friend approached me. He'd started a company some years earlier, and it had reached a turning point. We talked about what it needed to take it to the next level, and I saw enough potential in it to get involved. He was the CEO, he had a vision, and I shared it. OK, let's do this. As part of it, I also brought in one of my closest friends, and together we built it from a handful of people to an industry leader. In reality, those two built it with their day-to-day hard work. I just threw in my two bits when needed. Early last year, we sold it to a much larger company. A very nice success story.
Yesterday, I had a Zoom call with those two. One of them is the former CEO. The other is the former president, but still runs what used to be our company as a subdivision.
And it wasn't a great call… just an update to let us know that our acquirer, themselves now facing top-line revenues that were 15% of original projections, had to let a lot of people go, including many of the key people who'd help build our success story. It knocked our piece right back to 2007. The worst part of it was hearing the names… these great, talented people who'd been such an integral part of building this thing… all out of a job.
Also yesterday, I had a very nice chat with a reporter who covers horse racing. She wrote a very nice article which you can see directly below this post. As much as it was a discussion about me and these posts, it also got into a much larger discussion with respect to the horse racing industry and the people it employs… including her. A sports reporter without any sports to write about… now what.
Like so many businesses and industries and people these days, very few have worst-case scenarios designed to deal with zero revenue. A pub might have a great month because the weather was good and the patio was open and jammed with people enjoying the sunshine. Or what could have been a great April and May were not, because the Canucks missed the playoffs. The guys in the offices have lots of fancy spreadsheets where they plug in numbers and run lots of different "What If" scenarios. But none of them ever plug in zero at the top, because zero at the top means you don't have a business. Unless you're Apple, and sitting on hundreds of billions of dollars in cash, you're presently in completely uncharted territory.
Having had that discussion about horses yesterday, I woke up this morning really missing it. This beautiful sunny morning, exactly the sort of day where in that parallel universe — the one where the Canucks clinched a playoff spot a few days ago and are preparing for round 1 — I'd be heading off to the backstretch at Hastings Park, where I'd park myself at the gap, the rising sun behind me to the East, and watch horses, some of them mine. The smell of the barns, the hay, the horses, the mud. The sound of distant hoofbeats getting louder as the horses approach, and then fade away as they round the turn. The sight of these beautiful animals in full flight, sun glistening and steam rising off their bodies. Words don't do it justice… but if you've never experienced it, that might give you some idea.
And then there's the people, of course. I miss that crowd… the backstretch of any racetrack is its own society, and for lack of a better way of describing it, a "flat" one. Whether you're the wealthy owner writing cheques or whether you're the hard-working groom who's up at 5am mucking stalls, everyone is there for the same reason, that same passion. Anyone can — and does — talk to everyone else, at the same level. An eclectic collection of peers. But there is also a big difference… for me, this is just a hobby. For them, it's their livelihood, and in some cases, their home. There is uncertainty at every level.
Those of you who think you're considered to be nothing more than expendable little cogs in a big machine… I assure you, you're not. Whether you were writing software or serving beers or mucking stalls… and now, for the moment, are not… there is someone, somewhere… in a cramped little office, after a sleepless night, stressed out looking at a scary-looking spreadsheet. That spreadsheet these days has a lot of red numbers. And that guy feels bad. Really bad. Not because he's not rolling in the cash, but because he knows you have rent to pay and mouths to feed. He wishes he could do more for you, and in many cases, he does. He wants that light at the end of the tunnel as badly as you. He wants you back at work. He wants to have work to give you.
I think if I ever had to go to prison, and were given a choice…. one option is a 10-year sentence. The other, unknown: you might get out tomorrow. Or, you might never get out. Every day, the same thing. Maybe you're going home today. Maybe you're not.
Given what I'm experiencing today… indeed, what we're all experiencing… I think I might go for the 10 years. That's a dreadfully long time to be locked away, but at least you can wrap your head around it. Set goals, set expectations, figure out how you're going to fill that time.
I think what a lot of us are feeling these days is the despair that comes along with the uncertainty. Tell us when we can get back to normal goddammit… just tell us. I get it, and I feel it too. I don't have the answers either, but one of these days I'll give my version of what I think that finish line looks like… because there is one… the when and how. It's on the horizon, but nobody is quite sure how distant… yet.
For now, we're here today, so let's look at some numbers…
It wasn't a great day out East, as far as numbers go… but it's actually not as bad as the first impression might imply. Ontario saw an increase of 550 confirmed cases, which is a jump of 11.6% from the previous day… but the average increase over the last three days there is only 9.3%… and the 3 days before that were 13.1%. And the three days before that were 17.9%. While I'm at it, let's do the same for Quebec… their 3-day average daily increase including today is 7.9%. Three days previous, 13.2%. And the three days before that, 17.3%. As far as trends go, this is exactly what you want to see. A one-day spike doesn't necessarily imply a sudden, drastic turn of events. Indeed, here in B.C. we saw 45 new cases… which is the highest one-day increase in 5 days. But then again, it's only an increase of confirmed cases of 3.5% over yesterday.
Everyone — just listen to your respective chief medical officers. And if you don't like what yours is saying, listen to ours — she's awesome, and she's right. We're doing it. It's working. It's not magic; it's science. But we're not there yet. Stay at home, physically isolate, and do your part… we're getting there.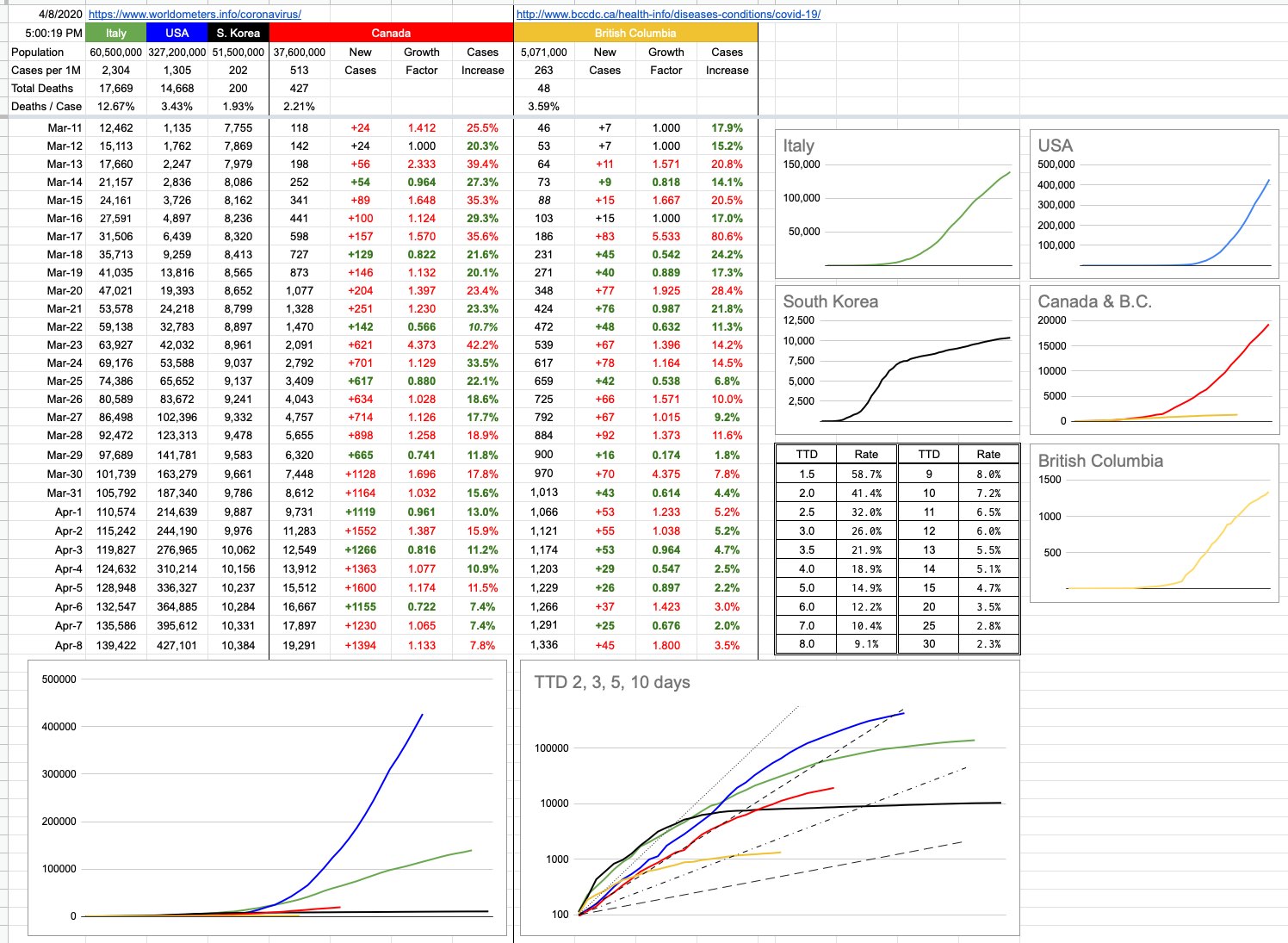 Horatio Kemeny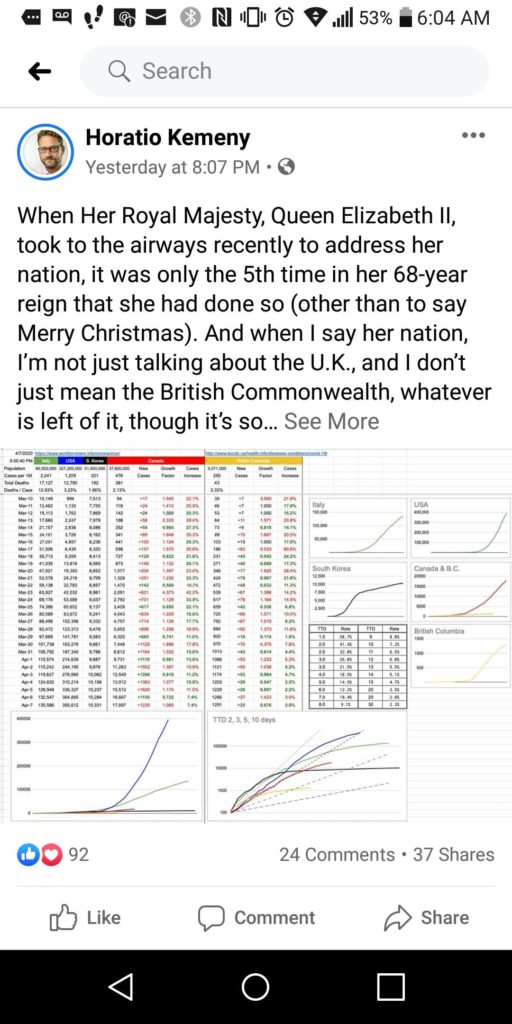 Horse Owner Horatio Kemeny Reaching Many With Informative Posts
Swift Thoroughbreds' Kemeny has attarcted a large following with his daily graphs and chatty write-ups about BC and Canada's battle against COVID-19
View Original Post and All Comments on Facebook: 133 Likes, 25 Shares
Share...