Horatio Kemeny
Today marks one month since I posted my first little chart, with an accompanying short little paragraph explaining it. What's the date today? March 58th? Seems that way.
Since then, everything has grown… the numbers have grown, the lines on the graphs have grown, and the volume of my little paragraph has as well. It seems to be dealing with a lot more than just numbers, doesn't it… so… on that note…
Today's update at 11am from Dr. Henry and Mr. Dix was a thorough presentation explaining where we're at and where we're going. The slides of that presentation are available on the BCCDC website, but I'll give you the summary — we're doing really well around here, well enough that we can stop comparing the Italy track… we're not following it… and, looking at the numbers and charts below, haven't been for a while. And recognizing that we may be seeing a plateau, on its way to a decline — cautious optimism — of many key numbers. New infections, hospitalizations, ICU cases… everything trending in the right direction. We are seeing lower numbers for new infections, even with enhanced testing. For now. We will see next week if the long weekend changed anything.
And it's key to note that this success has largely been a result of the measures put in place, the timing of those measures, and our compliance with them. And now is not the time to stop. "It's working" is a lot different than "It worked". We are still a work in process, and those social/physical-distancing ways-of-life will be around for a while.
Capacity to handle patients is below 50%, and it'd be ideal to keep it there. The absolute certain end to this is a vaccine, and things will be different until then, but it doesn't mean we're stuck in our homes forever. The plan for opening things up with a methodical, well-thought-out strategy is in the works, but the last thing we want to do is open things up too quickly. That can drastically change things, and it can happen quickly. One interesting slide, #34, showed the results of dynamic modelling, testing different outcomes given the degree of compliance of social/physical distancing. Short answer — if we keep doing what we're doing, very good. If we don't, there are varying degrees of what would happen. Worst case scenario: we all take to the streets today…. In about 10 days, the near vertical growth in cases would quickly overrun our medical infrastructure. That model also implies that a little loosening wouldn't have a drastically bad effect… but to what extent and how… again, as you can see on that slide, if you hit a tipping point, it's hard to come back from it. And speaking of that scenario…
There was a story on CNN yesterday with a headline that read "The social-distancing deniers have arrived". Before clicking on the story, I imagined the picture that'd accompany it… it would be a group of people protesting. I imagined bushy beards, hunting caps, guns, American flags, Trump signs and no masks. I was a little wrong about the masks… a couple of guys had them; the rest, bang on. Oh, and not just guns… assault rifles.
I have a great idea. Get Barack Obama, Joe Biden and Nancy Pelosi to hold a press conference. Throw Bernie in there too. And there, they announce in angry, loud, unified voices… that social distancing is a terrible idea. That this lockdown is ridiculous. "President Trump!", they should demand, while dramatically ripping their masks off their faces, "End this nonsense! Open every business! Get everyone out on the streets! Now! We demand you open this country, fully… RIGHT NOW!"
It might actually work.
Democrats say Zig, Republicans say Zag. Republicans say Ding, Democrats say Dong. It doesn't even matter what Zig/Zag or Ding/Dong mean… nobody knows. Nobody cares. We are right, they are wrong. You are with us or you are against us.
Around here, we've pretty-much forgotten who's in power. Premier John Horgan (NDP, if you need reminding) is not around much. I may not agree with everything he has to say, but he and I have something in common; an understanding of what leads to success… a concept that has served me tremendously well all of my life: Surround yourself with excellent people, keep them around, and let them do their thing. Two of those people these days are, of course, Adrian Dix (NDP) and Dr. Bonnie Henry (who knows and who cares). Political affiliations are pretty irrelevant at the moment.
Actually, John Horgan hasn't been completely M.I.A… he holds a press conference once a week or so and answers questions. There are other issues facing the province, and while I'm unclear what he does all day, some of it has to do with dealing with other provincial issues, and of course, there are many. They haven't gone away. And some of it is planning how to open up this province (beyond private liquor store hours), hopefully sooner than later, in a way that works and isn't at odds with the big picture being laid out by Adrian Dix and Dr. Henry. Indeed, he's letting them run the most important issue of the day, and he's staying out of the way. It's working really well, something even the most ardent NDP bashers would grudgingly have to admit. There will be a time and place for partisan politics, and I look forward to it because it'll mean that things are back to normal.
In fact, the closest thing to partisan politics we've had recently was about all of this… Liberal leader Andrew Wilkinson serving up a little softball… "Hey, John Horgan, where are you?" The premier probably could've swung at that and hit it over the fence, but he let it go by and watched it dribble to the backstop. Andrew Wilkinson's question was actually a little more pointed… like, shouldn't the premier of the province be out in front of the cameras, telling us what's going on, giving us updates and hope and encouragement, like a real leader… etc. And the answer is simply… no… he shouldn't. The British Columbian leadership and response to this pandemic has a face (two of them), and it doesn't need a third.
But behind closed doors, I have no doubt that if one of those two gentlemen needed something from the other — personally, publicly, privately, politically… they'd be listening to each other and talking and working together. If there was ever a time for political partisanship to take a back seat, it's now. Everyone… from the top on down, needs to be pulling in the same direction. We, around here, are very fortunate.
But just a little south of here… well, that pulling looks like this: it's a tug-of-war… one side of the rope is 500 trillion little virus balls, all pulling together. The other side is a mixed bag of people… men, women… some are wearing red shirts, some are wearing blue shirts. Some are pulling in the right direction. Some are pretending to pull but are barely holding the rope. Some are pulling sideways. Others are pushing the rope into the ground. One guy is twisting the rope… clockwise… while someone else is twisting it the other way. A couple of people have little hacksaws and are quietly trying to cut the rope without anyone noticing.
It is so incredibly sad and frustrating to watch this slow but inevitable trainwreck. You can't look away, and wish you could do something… because solutions to the dysfunction exist… but they seem to be well-beyond the reach of the very people tasked to manage it. It shouldn't be this convoluted. The reasonable voices do exist, of course, but they are drowned out in a sea of irrational, national insanity.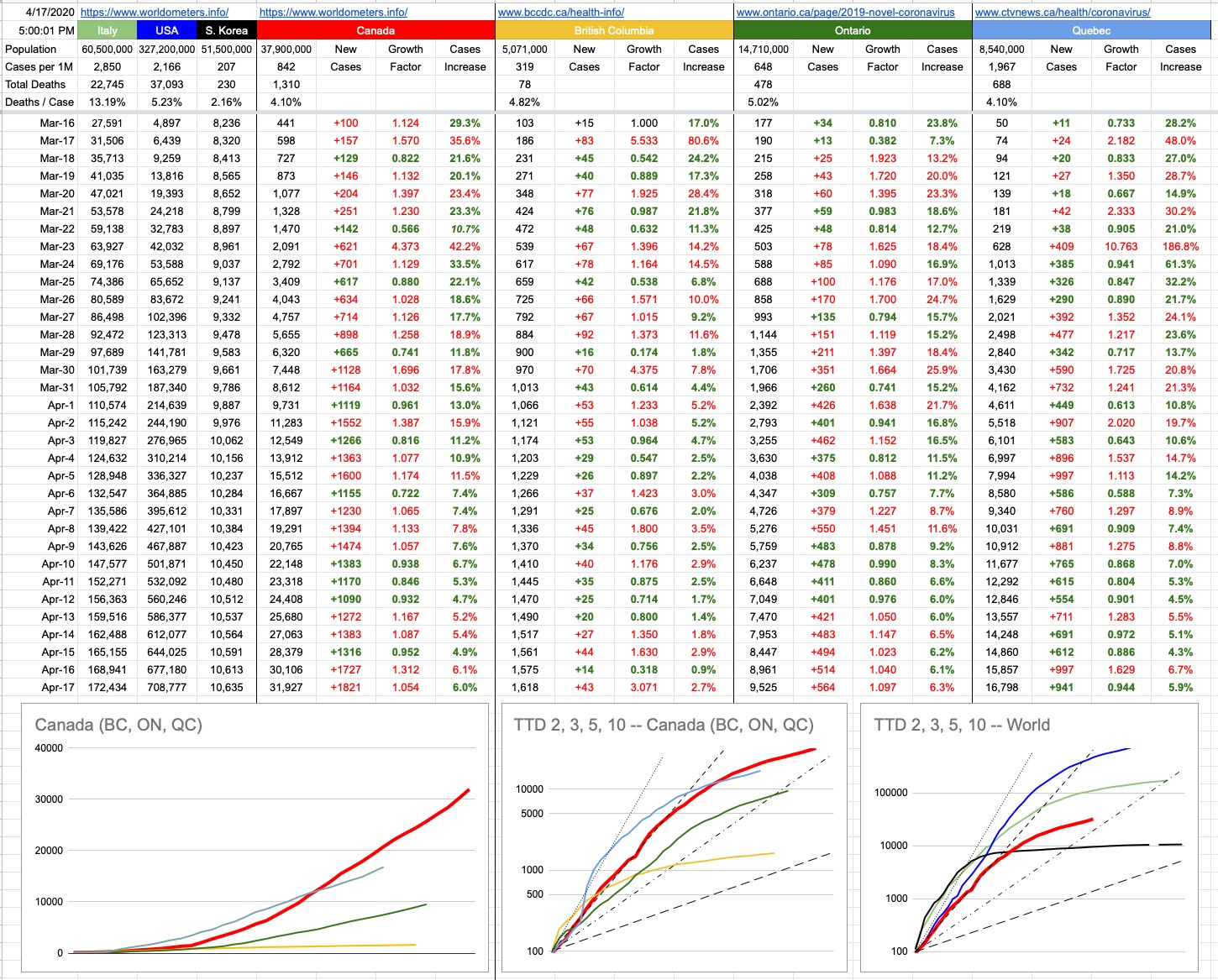 Horatio Kemeny
The B.C. number was published minutes after I posted this at 5pm, so I've just updated it… and it's a good one, only 14 new cases. Great to see after yesterday's spike… and although one day doesn't make or break anything, that's the direction we love to see.
Ontario's growth continues to remain consistent, around 6% — which is a TTD of 12 days. Quebec is probably in a similar range, maybe less (ie better) — but is more volatile. They had a bit of a jump in today's new cases, but that could be for many reasons. I'll have a lot more to say about B.C. tomorrow after the modelling presentation… which you should watch, if you can… at 11am.
A couple of shoutouts while I'm here — to the staff and residents at the South Granville Park Lodge… my grandfather, who passed away many years ago… lived his last few years at that residence, and it was a peaceful and happy time, after a 94-year life full of extreme highs and lows. The staff was exemplary, and they unfortunately now find themselves a cluster of COVID-19 cases. I wish them all well.
And… a family friend in Montreal — who I've known my entire life… in fact, our families go back close to 80 years of knowing each other… 4 generations now… had been struggling in the ICU with COVID-19, on a ventilator for two weeks with a high fever that would come and go but never go away… well, as of this morning, I'm incredibly happy to report… no more fever and no more ventilator. He's going to be ok, after a hellish 2-week nightmare. He is my age, my demographic, and at least as healthy as me. That struck very close to home… this thing is serious and this thing can hit anyone. But in this particular case, I probably can't find the right words to express my relief. Whatever else, it's been a great day.
And to radically shift gears, the rest of this post will serve as a bit of a public service announcement… these days, scammers, who may also be locked up in isolation, also need to make a living and are trying all sorts of new things, one of which is scary enough that a few people have reached out to me to ask if it's for real.
You may have received an email where the subject line contains your password… and when I say your password, I mean some password you used somewhere, at some point in the past. And if it happens to be your current online banking password, that can indeed be really scary. I really hope that it's not a password you use everywhere, because while things aren't as scary as you think, you do have a bit of a hassle on your hands. But let's break this down into little bits, and solve each piece of it.
how did they get my password and/or name and/or email address?
– what else do they have?
– how real is the threat?
– what do I do?
– what do I not do?First thing, relax. No matter how bad you think it is, it's not.

The email has your actual password, which is certainly enough to get your attention… and it then goes on to say that they've seized control of your computer and camera, have a complete log of you sitting in front of your computer doing whatever you do there, and a list of all the sites you've visited and all of your contacts. And unless you send them some amount of Bitcoin, they will send that video and list of websites to all of your contacts.

Rest assured, nobody has taken control of your computer or your camera or your contacts or anything else. There is no video. It's all complete bullshit. The scary aspect of your password sitting on the subject line means that somewhere, some site where you used that password got compromised… and if you use that password anywhere else, you really should change it… though I will point out that if it's your "junk" password, it barely matters. I can assure you, some Bulgarian hacker has no interest in fiddling with your subscription preferences to "Turnip Harvester Weekly". That being said, it's always suggested you have unique passwords for everything, specifically for this reason — if some database gets hacked (which unfortunately happens more often than it should), that's the only site and password-reset you have to worry about.

Huge lists (with millions of names) exist for purchase on the DarkWeb where your name, email address and that associated hacked password are available. These lists sell for cheap, and anyone with some time and a bit of knowledge on how to merge a database with an email template can put together an email like the one you got, and send it to a million people. It is like casting a million little fishing lines into the ocean, and seeing what bites. Usually the email address it came from isn't even valid, and the email will say — don't bother trying to contact me. Or reply for proof that I have your contact lists. On that note, if it is valid, do not reply… because that might actually get you onto a list of "live ones", which only means you'll now be getting 10x the number of those scam emails in the future. And if you replied and if they did have a list of your contacts, again… relax… it didn't come from your computer. At the end of all that, the scammer wants you to send some Bitcoin, and if you do, he'll delete the video and leave you alone forever.

So… they got your password from a hacked site. If you use that password anywhere important, go change it now. If they sent you a list of contacts to prove they know who you know… they probably got it from Facebook, which has an option that lets people find you via your email address. This is a security hole that everyone should adjust, because if they can find you on Facebook with your email address, and you have your friends list open to the world… then that's how they know all these people you know. Fix that now… go to Facebook, under Settings, under Privacy… there is a section called "How People Find and Contact You" — settings for who can find you via your email and who can see your friends list and who can look you up via phone number. None of those should be set to "Everyone". At worst, "Friends of Friends". Just "Friends" is better. "Only me" might be best. That's up to you, but lock it up so that random strangers can't find you or your friends.

The scammer wants you to send Bitcoin because it's anonymous. Incidentally, if you need any further proof that this is all nonsense, consider that he's sending the same Bitcoin wallet address to everyone. If you send him money, he actually has no way of knowing the money came from you. He's hoping some of those one million little fishing lines will bite, and the Bitcoin wallet will just magically fill up from victims around the world.

It's always occurred to me that anyone who's intelligent enough to be able to figure out how to purchase Bitcoin and then send it — probably wouldn't fall for this in the first place. But that password thing is a little scary… so maybe it got you thinking in that direction. No worries.

Summary of action items:
– if you use that password anywhere, change it
– review your Facebook settings as per above and adjust as needed
– google your email address and see if that pops up any information you wouldn't want out there
– delete the email
… and stop worrying.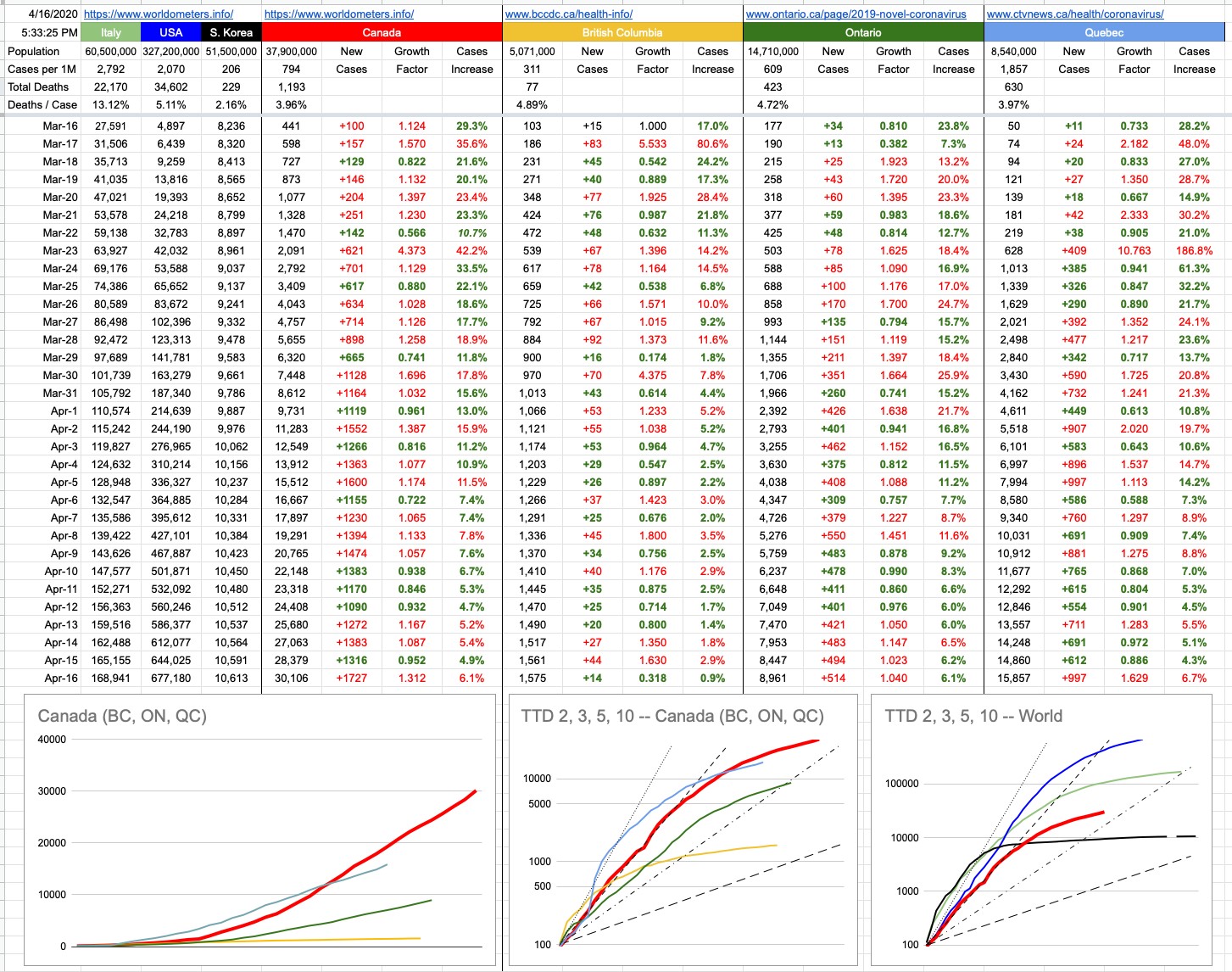 Horatio Kemeny
The textbook definition of the word "optics" has to to do with light, and its interaction with the physical world. The most familiar adaptations we're familiar with have to do with light interacting with our own eyes… optician, optometrist, ophthalmologist.
If you're a professional photographer, this extends to different lenses and fields of vision and lighting and focal lengths and so on.
When it comes to business or politics, "the optics" refers to how it looks… to the general public. "What are the optics?" is the buzzword-question asked of advisors and consultants and marketers and branding experts and spokespeople and press secretaries — by the people behind the scenes who'll care about the answer. How will the public take it?
Over this last long weekend, Prime Minister Justin Trudeau decided to join his family, who've been living in the Harrington Lake cottage for the last few weeks, for Easter. The cottage is in Gatineau Park, which is in Quebec.
That visit violated the social distancing orders that the federal government and every provincial government has imposed on its residents — the same ones Trudeau himself repeats every time he's at the podium. That visit also violated the order with respect to crossing the provincial border which at the moment is supposed to be open only to essential travel.
And just to shove it a bit more in all of our collective faces — us, most of whom who stayed home all weekend, many of us who have cabins and cottages and places to where we'd love to have gone to get away from it all… and if not, especially in this beautiful weather, just pack up the SUV and go camping somewhere — he posted a selfie of himself and his family.
The picture shows a beautiful, smiling family of five, clear blue skies with a few light, scattered clouds in the background. Everyone dressed appropriately for the crisp, fresh air. A few wispy trees. The lake itself in the distant background. From a photographical optics point-of-view, excellent. From a political optics point-of-view, awful. Just awful.
Forced to explain himself, the PM gave a somewhat meandering and deflective comment. Within his statement was the sentence, "We continue to follow all the instructions of the authorities." You're supposed to be the top of that authority, Mr. PM.
Meanwhile, on the other side of the country, not to be outdone, Conservative leader Andrew Scheer stepped onto a government jet in Regina with his entire family, completely destroying any semblance of social distancing a 9-seater plane may have been able to offer its present two occupants. Why would his family, who one would think should be isolating at home in Regina, need to be heading to Ottawa. In a normal world, that last sentence would have a question mark after it, but these rhetorical questions don't need them because the answers are self-evident.
We seem to have been dealt a fortunate hand here in B.C. — our provincial leaders convey a calm, consistent message with logic and transparency. They walk the walk, not just talk it. The plan is collective; you hear the word "we" a lot, and that "we" includes them. One wonders what that might look like at a national level. Like, how would it look if there were an entire country being guided by the calm, clear plan and intelligent reassurance we hear almost daily from Dr. Henry? What would it look like if B.C. were its own country and had control of its borders and could independently navigate this entire ordeal?
That particular rhetorical question actually has an answer: New Zealand… which coincidentally has a very similar population of around 5 million people. But the similarities don't end there.
Their Prime Minister, Jacinda Ardern, has a lot in common with our own Dr. Henry. She stands up in front of her people, she speaks calmly and intelligently and pulls no punches when expressing the seriousness of the situation… but at the same time, is reassuring and inclusive and transparent. She is very much one of them, and she knows how to talk to them, and they listen.
On March 14th, when there were only 8 confirmed cases in the entire country of New Zealand (B.C. was at 73, Canada at 252), PM Ardern clamped down hard and implemented all sorts of measures that have now become familiar to all of us; 14-day isolation upon returning from out of the country, canceling cruise ships, cancelling big events and festivals. She went on TV and said a lot of things, many of which will sound familiar… "We will get through this together". "Be strong". "Be kind".
Eight cases might sound early, but the results have been better than anywhere else on the planet. She saw what was happening around the world, she realized that time was of the essence and that even the slightest variation of the initial conditions (see yesterday's post) can make a big difference. If she erred, it was to the side of caution, which these days might be the only right way to be wrong.
One of the sound bites of that TV address was her plea: "We must go hard and we must go early". It has been said that this is the same sort of rallying cry that the coach of the New Zealand All Blacks might give his players before a game. My personal experience playing a rugby team from NZ would agree. They proceeded to go hard and go early and destroy us. Great bunch — this was in high school, so there were no after-match drinks, just handshakes, but I would've enjoyed a pint with those guys. Their game was disciplined, cohesive and well-executed. It was all business, from start to finish.… much like New Zealand's response has been so far. And that's why they're winning; they can all relate, and there is tremendous trust in their leadership and the plan. It looks and sounds good, and it's working. Good Optics.
Justin… Andrew… come on guys, you can do better, and the country deserves better. We need better. You're both "one of us" too. Lead by example. Don't just tell us what to do; do it yourself as well. Lead by example, because mixed signals and a "the rules don't apply to us" attitude — Bad Optics.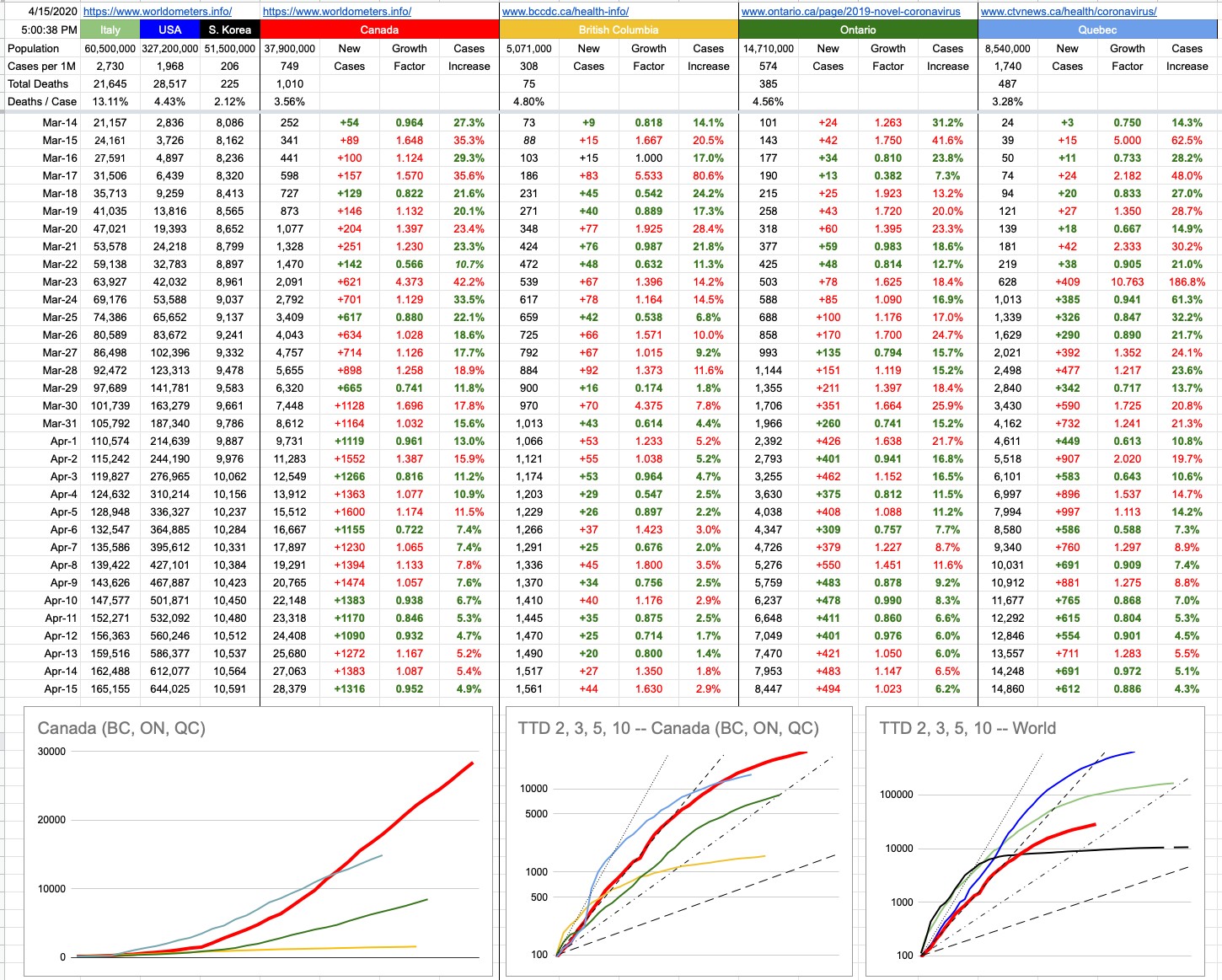 Horatio Kemeny
In simple terms, there are three initial conditions to consider if you're going to fire a cannon: the weight of the cannonball, how much gunpowder you load into the cannon, and the angle of the cannon when you fire it.
If you're trying to figure out what effect changing those variables can have, the right way to do it is to fix two of them and then see what happens as you vary the third.
For example, set the cannon at a 30-degree angle, and use the same weight of cannonball for 5 shots. Pack each of those 5 shots with increasing amounts of gunpowder… like 10, 20, 30 pounds and so on.
After you've fired those five cannonballs, measure the different distances and graph them. And draw a line through those 5 points… and extend it, beyond the last one, following the shape of that line. It might be perfectly straight. It might curve a bit. This is called extrapolation, and lets you make a pretty good guess as to what would happen if you had kept adding more gunpowder.
Now, do the same… this time, use the same amount of gunpowder, but use different weights of cannonballs. Graph and extrapolate that too.
Finally, pick one of those cannonball weights and a fixed amount of gunpowder, and fire them all, changing the cannon's angle by 5 degrees each time. Graph and extrapolate.
Given those three graphs and their extrapolated lines, you now have a pretty good idea of how to fire this cannon, depending on what you desire. There may be many ways of hitting a target 500 yards away, but one uses more gunpowder. Or maybe you want to hit it with a bigger cannonball. Maybe there are trees in the way, so you'll need a steeper angle.
One thing that's certain; the only control you have with this cannonball is what you set with these initial conditions. Once you light that fuse and the cannoball blasts its way out of there, there is nothing you can do about its trajectory. Hopefully you got it right.
It occurs to me that a more modern and relevant example would be golf. When you're trying to hit a golfball into a hole 150 yards away, there are many variables to consider, and usually, too many for most people, all at once. Pick the right club, but after that… the wind, your tight grip (but not too tight), feet shoulder-width apart, bend your knees, lean forward, keep your waist straight, look at the ball… etc etc. There are many more, and very few people are able to maintain all of those, all at once. And one initial condition out of place affects the whole thing. And again, like the cannonball, once you hit the ball, all you can do is watch.
When you look at the graphs in this picture, it's not hard to visualize where these lines might be going, given the trajectories shown. If you look at the TTD chart for the world, the one on the far right, you can see the red Canada line in between the black South Korea line and the green Italy line. For a long time, we were hearing thing about which trajectory Canada might be following, using those two countries as examples… ideally, South Korea… but, worryingly, looking like Italy.
Ideally, our red line would've bent harder and right, sooner. It didn't, but it also didn't follow Italy, though the shape is the same, and using extrapolation, all things being equal, we can tell where we might wind up with respect to cases, if nothing changes.
Except all things are not equal. Unlike cannonballs and golfballs, the big difference here is that we can course-correct, and we have. Our red line and the American blue line were on top of each other for a while… until around March 26th, where things diverged rapidly. Implementing changes makes a difference, and the timing of it is key. A few days sooner or later makes a big difference.
It's important to note that there were many initial conditions, both here and around the world, that affected things greatly. A big crowd at a soccer game. A large church gathering. Staggered Spring Break dates. The Canucks were away for almost two weeks after Feb 22nd. An endless list of endless jurisdictions where at the right place/right time, some situation that may have brought together a lot of people from lots of different places — did or didn't happen, for whatever reason.
We will be shown some modelling later this week, and some "what if" scenarios. The biggest "what if" around has to do with properly implementing the measures that have been imposed in many places (including here), and the effects they've had. There is some guesswork and some assumptions, but they're intelligent guesses based on what's been experienced elsewhere. Extrapolated graphs are part of it. And every indication is that what we're doing has made — and continues to make — a big difference.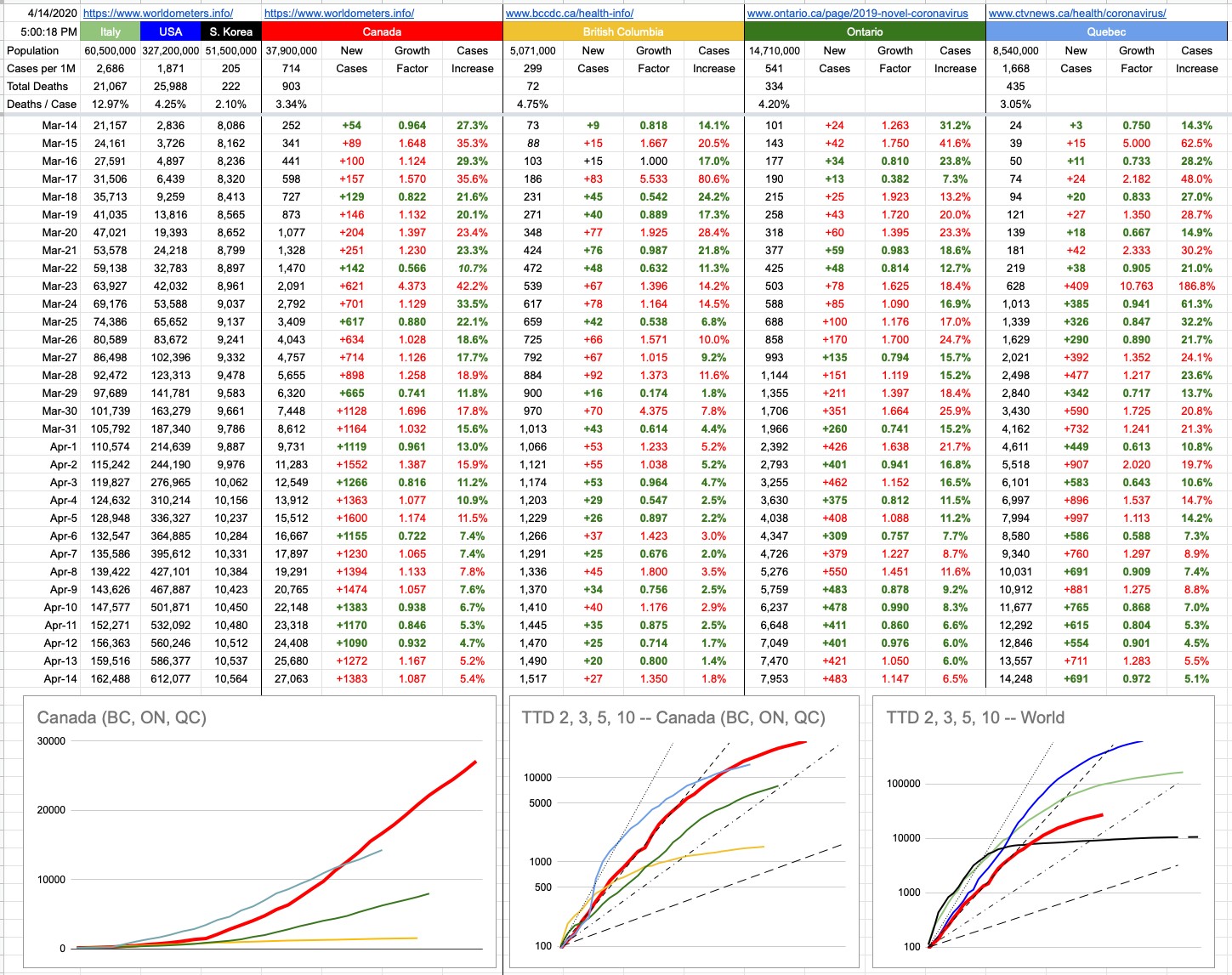 Horatio Kemeny
Once in a while, we have a movie night here at home…. who are we kidding, every night is movie night these days… and recently (well, before Tiger King), we saw a movie that could best be described as a combination of Groundhog Day and… Alien? Predator? War of the Worlds? If you're not familiar with Groundhog Day — you should see it. To some extent, it feels like we're living it these days… but to summarize (spoiler alert), in the movie, a normal guy (well, Bill Murray) is caught in a time loop where he lives the same day over and over until he's finally lived it perfectly and then his life can go on.
Those SciFi movies I listed all have in common the good-guy-humans vs. the bad-guy-aliens. In all cases, the good-guy humans prevail, with varying degrees of importance… saving themselves, saving the world, saving the universe.
Mix the two together, and what you get is humans vs. aliens, but with an interesting twist. Typically, our hero goes from battle to battle, close call to close call… until finally, he prevails. But in this movie, our hero keeps dying… because these aliens are seriously powerful. He doesn't last more than a few minutes the first time. But as time goes on, he gets a little further along in his quest to kill the aliens — before he's killed, and then wakes up the next day, and starts all over again. It's a Hollywood movie (Edge of Tomorrow) with a Hollywood A-lister (Tom Cruise), so (spoiler alert) you can guess the ending… but here's the takeaway of the whole thing… when he finally gets it right, when he finally — after brutally and painfully dying hundreds of times — is able to extinguish the aliens and life can go on and humanity is saved… nobody knows. It's like nothing ever happened. It's like the aliens never even showed up. All of humanity benefitted from the suffering this guy endured, but no one will ever know.
As we starting emerging from lockdown and navigate the complicated plan of getting back to normal, more and more of the crazies will emerge. There was a protest over the weekend where some people with "Fake News" and "CON-VID-19" signs showed up. Apparently, this is all a big conspiracy to… to… well, to what? These guys typically bundle-up all of the current conspiracies, so it's difficult to unravel a logical narrative that might even make sense. The Chinese created it and activate it with 5G and have the vaccine but won't give it to us but killed thousands of their own people to show it's real but Deep State and Illuminati and government power-grab and… and… well, even if that mess of insanity were true, how exactly does Canada figure into it?
Locally, Kennedy Stewart, mayor of Vancouver, is getting increasingly worried that this city is reaching insolvency… and it's a serious concern. As this goes on, fewer and fewer people will easily be able to pay the their mortgages or rents; where and when they can, they will. That's the priority. Property taxes, which greatly fund this city, are lower on the list, and the many people who will throw their hands in the air and say, "What exactly do you want me to do? You know I haven't worked in 3 months" have a good point. These taxes may be deferred and eventually will probably get paid ("deferred" is very different than "forgiven") but the city needs money now. So they asked the provincial government for $200 million. And Victoria isn't themselves rolling in cash these days either, so they will have to ring up Ottawa with a similar request. This then gets into a more complicated discussion at the federal level regarding literally printing money vs. inflation vs. stimulus vs. many other things, none of which are great for this country in the long run… which begs the question — to what end? To what end might the Canadian (or provincial or municipal) government be involved in some giant conspiracy? Not that you can ever intelligently argue with these people, but I'd love to hear that particular answer. We have created a big massive hoax which hurts everyone… across the board, everyone is suffering, including every single one of those government workers and officials… it will take years for us all to recover… because WHY?
I've made the mistake of answering a few of those sorts of messages privately, and my well-reasoned arguments are simply answered with "You just don't get it." On that, we can certainly agree. No, I don't get it and I never will… but what I will point out is that all of those idiots will end up benefiting from the sacrifices we've all made, and it sounds like they won't even be able to recognize it. We are all Tom Cruise.
And when the pandemic doesn't get out of hand here, because of all of the intelligent and necessary measures that were put in place and that were followed by most of us, these are the idiots that will proudly be announcing to everyone, "See? There was nothing to worry about. This was never a concern, never a problem, and all of you bought into it. Sheeple!!"
That's ok. You, like Tom Cruise at the end of that movie, can just sort of chuckle to yourself. You, me, we all took the hit for the greater good, and it was an expensive one… but we will recover.
And when and how exactly do we start that recovery? I'll be happy to offer my completely-non-expert opinion in the coming days, and there are some encouraging signs to guide that. One is that the numbers really do look good. If you scan down the columns labelled "Cases Increase", they tell an optimistic story, and not just in B.C.
Also… here in B.C., serological antibody tests are just around the corner… within the next couple weeks. This is the test that can tell you whether you've ever had the virus, symptoms or not. I don't know what the rollout looks like… in a perfect world, we'd all get one instantly and we'd know our own status and that would obviously guide a lot. That's not how the world works, but whatever way gathers the most information quickly and efficiently — that's what we'll see.
Until then… it's working. Keep doing it. That light at the end of the tunnel is not a train screaming towards us.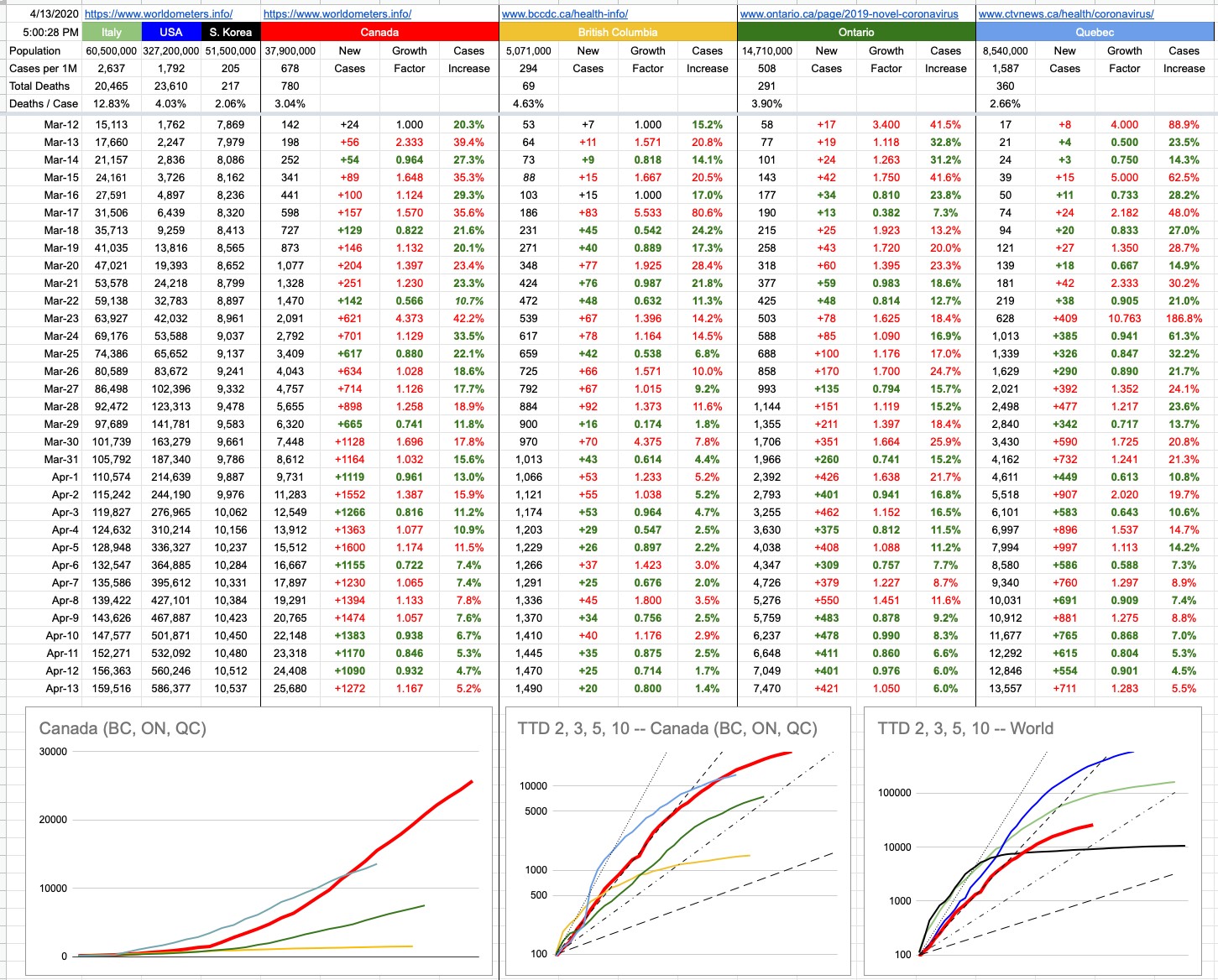 Horatio Kemeny
Today is the day we don't get numbers in B.C. — Dr. Henry and Mr. Dix are taking a well-deserved break, so accurate numbers will have to wait till tomorrow. For now, as usual, I've plugged in my B.C. guess for the day — I'll fix it tomorrow. But assuming a good day locally, it'd make it a good day nationally. Growth rate was down in Ontario for a 4th straight day, and 3 straight days in Quebec.
But while they're resting, and the numbers people are resting… as many of you are as well… let's look at things from a much bigger-picture point of view. Like, these days, the earth is also resting.
If you were to believe that the earth is in some way alive and/or conscious, you'd be making the interesting parallel these days that, as a living being, Gaia finally got sick and tired of the virus infesting Her and decided to vaccinate Herself. For the most part, the young people who had nothing to do with wrecking the place would be spared… but the older you are, the more responsible you are for the disregard and destruction and pollution and reckless abandon that have finally made Mother Earth say "Enough".
Gaia doesn't have to wipe us all out to heal Herself. She just needs to give us a bit of a wake-up-call, and not much of one as it turns out.
In the grand scheme of things, it's interesting to note just how irrelevant humanity is to this planet. In a matter of mere weeks, there are changes occurring. The sky is more blue. The water is cleaner. The air is undoubtedly less polluted. People in Punjab can see the Himalayas. People in L.A. can see the Hollywood sign. If there was ever a sign that a little change can make a big difference, there you go. And for all of us thinking we're wrecking the planet, we are… without a doubt. But if you think this planet can't fix itself once humanity is gone, that'd be wrong. It can and it will, very easily. Our time on this earth is so irrelevant in Her own grand scheme of things, that… well, let's explore it. Let's start by talking about big numbers.
Let's say you walk out of the bank with $1,000 in cash. It's a collection of different bills… you're not sure exactly how many hundreds or fifties or twenties, but it adds up. The teller counted it out in front of you. There's a Starbucks next to the bank, so you pop in there and get that Pumpkin Spice Latte you've been craving. Yes, certainly by October, you'll be doing this.
The PSL costs… whatever, you're not paying attention. You give the barista a ten dollar bill and get back a handful of change… some Toonies and Loonies and whatever else, which you jam into your pocket. If someone at that point had asked you how much money you have on you, your answer would be "Around $1,000". On your way out of Starbucks, there's a homeless guy there. You fish into your pocket and give him a Toonie. How much do you have on you now? "Around $1,000" is still accurate.
You walk a block and there's a shiny Loonie sitting on the sidewalk. Quick Karma repayment! You pick it up and put it in your pocket. How much do you have now? Yes, around $1,000… and if you hadn't picked up that Loonie, the answer would still be the same… around $1,000. That Loonie is little more than a round-off error in your present grand scheme of things of how much you have on you. And that $1,000 is similarly related to a million dollars. If you have around a million dollars, adding or subtracting a thousand doesn't change anything. It's still around a million dollars.
I mention all that to create some context and scale between a number we're all familiar with… a thousand is relatable in many ways. A million less so… we know it's a lot bigger, but sometimes we don't realize just how much bigger. And to keep going, when we hear about a billion, we maybe don't quite realize how big that is. A million is pretty irrelevant when you're taking about a billion. A million seconds is less than 12 days. A billion seconds is close to 32 years. Indeed, 3 million heartbeats is a few days. 3 billion is your entire life.
Let's pretend we map out the age of the earth (4.5 billion years) as a long road — the Trans-Canada highway. And let's walk it. We'll start at Mile 0 in Victoria — a charming little park at the foot of Douglas St. There are some stairs down to the beach… those would've been Terry Fox's last steps before dipping his artificial leg into the Pacific Ocean, had he completed his Marathon of Hope. Today is the 40th anniversary of the start of his heroic effort, so we'll begin our walk down there, one foot in the water on our long journey to St. John's. Each step to the east is one step back in time.
At this scale, each step is 5,800 years. One step out of the water and that's pretty much all of recorded human history. In fact, by the time you hit the monument at the top of the stairs, that's about 600,000 years. Humans haven't been around that long. And we're still really at Mile 0. The era of humanity is barely a rounding error, as far as the age of the earth is concerned.
Keep walking east, going back in time as you do… dinosaurs died out somewhere near Abbotsford… and only appeared somewhere near Kamloops. Mammals appeared somewhere around Cache Creek. And right around Golden, before you even set foot in Alberta, now we're at 540 million years ago… that was the emergence of anything more complicated than single-celled life forms. And beyond that, there is a lot more time and distance. It's all single-celled organisms until somewhere in central Quebec, and then, there ceases to be any life at all. Quite a journey. Canada is a big place. 4.5 billion years is a long time.
The point of all this… as much of a blip in the radar as humanity might be, and as much as the thought of Gaia being this living/breathing thing that Herself is sick… we fight off sickness by being healthier; by allowing our bodies to heal. By giving them the opportunity to do so. A vaccine doesn't cure you; it allows your body to cure itself. A ventilator allows you to breathe, and it's the processes beneath that, carrying oxygen-rich blood to your cells… which heal you. Anything that stirs your immune system into action, whether physical or just mental (placebos work for good reason).
So while the earth has temporarily kicked us all into a state of self-reflection and healing, we can see that it doesn't take much to heal the bigger picture… and it also gives us an opportunity to find some sliver linings to this big cloud, because there are many. I'm as anxious to get back to the real world as you are, but already I can see some changes I'll make going forward, and I'm sure many of you have as well. We've all been learning a lot about ourselves and our habits and what's important and what isn't.
I leave you with this… written by Kitty O'Meara, which will read like a prayer for those who are religious, and a like a poem for those who are not. Either way, beautiful words that make you think as you stare out at the sky on this beautiful day… whether out the window or from your balcony or porch or back yard… and yeah, the sky does look more blue, doesn't it?
And the people stayed home.
And read books, and listened, and rested,
and exercised, and made art, and played games,
and learned new ways of being, and were still.
And listened more deeply.
Some meditated, some prayed, some danced. Some met their shadows.
And the people began to think differently.
And the people healed.
And, in the absence of people living in ignorant, dangerous, mindless, and heartless ways, the earth began to heal.
And when the danger passed, and the people joined together again, they grieved their losses, and made new choices, and dreamed new images, and created new ways to live and heal the earth fully, as they had been healed.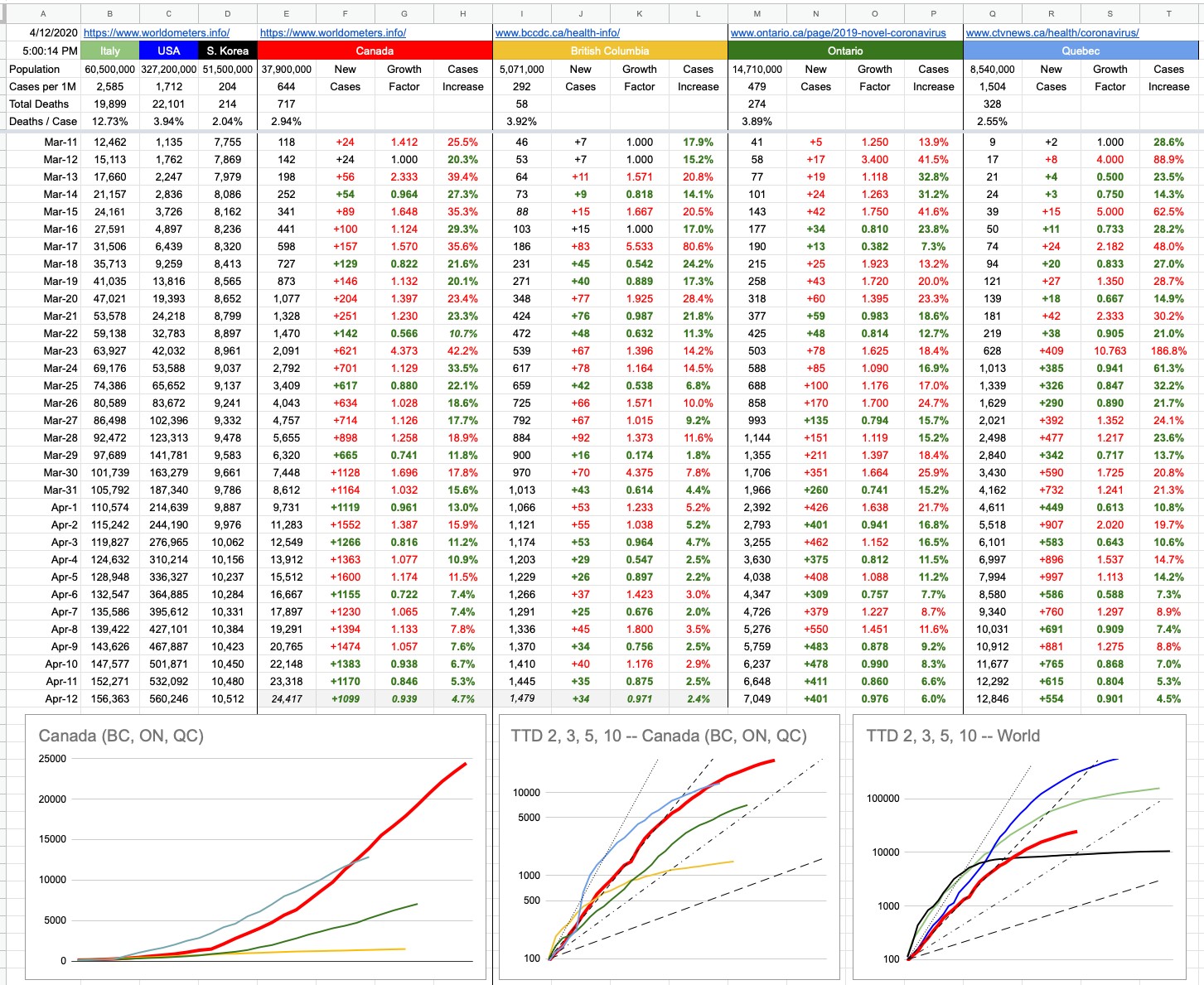 Horatio Kemeny
For the sake this example, I'm about to virtually kill a lot of people. Please don't feel bad — they never existed.
Let's imagine you want to drive from Vancouver to Seattle… and let's further imagine that there's a winding road that follows the coastline all the way down. Sidenote — for part of it, there is… there's a 20-mile winding road from Bellingham to Burlington called Chuckanut Drive that's well-worth the detour. Spectacular views and much more.
So… there's the imaginary coastline road, and there's Highway 99/I-5 which actually exists.
And you're a new driver, kind of nervous… the thought of the fast-moving traffic on the highway scares you a bit. But you also know the coastline road is very winding, and you've heard of cars losing control and going over the cliff. You do your research and quickly find a report that tells you that over the last two years, accidents killed 45 people on the highway and 24 on the coastline road. Again, I'm making this all up. Nobody was hurt in the creation of this posting.
No brainer, you think, the coastline road is twice as safe as the highway… because that's the ultimate measure of safety, and there can't be too much more to it…
Well, there can be… and if you keep reading down my imaginary report, you'll find that the coastline road seems to have about one accident a month. Like clockwork, once a month, a single-occupant vehicle loses control, rolls down the 100-foot cliff and kills the driver. That accounts for the 24 deaths.
On the highway, as it turns out, some idiot last year was celebrating something… and rented out one of those monstrosity stretch Hummer limos, filled it with 43 of his closest buddies… and apparently everybody, including the driver, got drunk… and the limo, with its full tank of gas, crashed into a telephone pole, exploded into flames and killed all 45 occupants.
That changes things a bit, doesn't it…
Those 24 single-car accidents each have a little circle around them. The HummerLimo has a single, big circle around it. Around here, the Lynn Valley Care Centre has a big circle around it too, as does the administration office of Lions Gate Hospital. The Mission Institution. The Okanagan Correctional Centre in Oliver. The Blueberry River First Nations community near Fort St. John. All of them have their own little circles.
So… let's talk about clusters.
From an epidemiological point of view, a cluster is defined by infections that are grouped by where and when they happened. If those two things are close to each other, they're part of the same cluster. Infections can be clustered, deaths can be clustered. Really, any statistic can (and usually should) be associated where it's relevant.
In B.C., the Lynn Valley Care Center (where the average age of residents is 87) recorded Canada's first COVID-19 death on March 8th. Since then, it's accounted for an additional 17. Here in B.C., our mortality rate per resolved case is 6.0% when you count Lynn Valley, and 4.3% when you don't. This is in no way minimizing the importance of each and every one of those people; rather, it's just to point out where they should fit in statistically.
Treating those unfortunate 18 deaths the same as any random 18 in the city would skew things significantly; there's clearly a lot more to learn about those 24 individuals that drove off the cliff than by analyzing the demographics of the 45 people in the limo.
This is all something to keep in mind when reading reports that tend to favour skewing data towards their intended conclusion… something I'm saying for my own benefit as much as yours, because these days I'm being bombarded with articles and reports and opinions, many of which are diametrically opposed to each other. All of them claim credible evidence. I'm trying to keep a level head, and you should too.
As for today's numbers… well, it's green all the way across the bottom. From a purely aesthetic point of view, that's as good as it'll ever get… and it's what I consider great evidence that what we're doing is working. Let's keep at it, and let's hope those people that aren't such good listeners don't become clusters of their own once this long-weekend is over.
Share...